Sanctuary, the back porch.
Screens out bloodsuckers, stingers, flies
and the S chair—a wonder of the world—
a mother's cradle fit to cuddle my creaky joints.
 
My wife's house plants drink sunlight lustfully.
Weeks ago, my black thumb packed down cherry pits
in fertile soil in a ceramic pot. On the sill, they R.I.P.
 
Hard to read A Sun Shines in My Chest
as Madeline, on a sheet several feet away
props herself up, arches her back,
squiggles towards me drooling, squealing,
gurgling, gumming a teething ring
not quite crawling—like someone
numbed waist down, inching closer
with hands and elbows until
 
book aside, we lock eye currents
as invisible love streams back
and forth as she beckons me to
enfold her in my veiny hands
 
and I cannot resist.


© by Peter Venable.
Used here with the author's permission.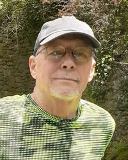 Peter Venable lives in Winston-Salem, North Carolina. A retired addiction clinician, he has been composing poetry for more than 50 years. When he's not busy helping to take care of his two granddaughters, Peter volunteers at a local prison camp, wins the occasional NC Piedmont Senior Games track and field events, and has been known to sing in local productions of the annual Messiah performance. Learn more about him at petervenable.com.
Anastasia:
No need to resist such an adorable invitation! The book can wait!
Posted 09/11/2021 08:42 PM
MLove:
I love this. I wouldn't resist either!!
Posted 09/11/2021 05:24 PM
Lori Levy:
Beautiful scene portrayed in this poem.
Posted 09/11/2021 03:07 PM
Jane S.O.:
I could feel the sense of peace you must have felt in this moment while reading this. Lovely!
Posted 09/11/2021 01:25 PM
Rob:
Lovely moments/images. Got a kick out of the Madeline verb list :)
Posted 09/11/2021 06:22 AM