'Tis the last rose of Summer,
   Left blooming alone;
All her lovely companions
   Are faded and gone;
No flower of her kindred,
   No rose-bud is nigh,
To reflect back her blushes
  Or give sigh for sigh!
I'll not leave thee, thou lone one,
   To pine on the stem;
Since the lovely are sleeping,
   Go sleep thou with them.
Thus kindly I scatter
   Thy leaves o'er the bed
Where thy mates of the garden
   Lie scentless and dead.
So soon may I follow,
   When friendships decay,
And from Love's shining circle
   The gems drop away!
When true hearts lie withered,
   And fond ones are flown,
Oh! who would inhabit
   This bleak world alone?


This poem is in the public domain.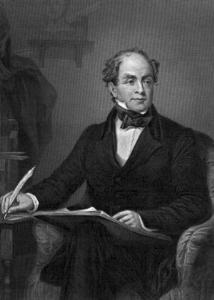 Thomas Moore (1779 - 1852) was an Irish poet, composer, and songwriter who enjoyed both fame and financial success from his writing throughout his lifetime. Though Irish by birth, Thomas lived most of his life in London; nonetheless, he is considered Ireland's national poet. Fond of a good time, Thomas avoided prison at one point by moving to Bermuda until his debts in London could be paid. He was a close friend of Lord Byron, internationally known for his songs and poems and, at one point, Edgar Allan Poe pronounced Thomas "the most popular poet now living."
Adriana:
He scattered the leaves but what did he do with that last bloom?! Although I like to read and write dark poems, this beautifully written one hit too close to home. (Two of three life-long friends dead, six local friends and special neighbors dead or moved away, and me in my eighties) The only other dark poem I've seen in YDP was the lengthy, clever, and profound one on suicide...I hope we'll see more...
Posted 09/27/2021 03:30 PM
Lori Levy:
Beautiful poem and great news about the book being sold in a bookstore in Florida.
Posted 09/22/2021 02:41 PM
paradea:
I love these old poems!
Posted 09/22/2021 10:53 AM
Jancan:
Such a beautiful poem, expressing a moving comparison between the fading flower and fading life of the speaker. Why so many nowadays frown on rhyme--I just can't understand!
Posted 09/22/2021 09:39 AM
cork:
Slinte!
Posted 09/22/2021 09:08 AM
michael escoubas:
Love the lilting cadence and exquisite rhyming displayed in this poem.
Posted 09/22/2021 09:03 AM
Darrell Arnold:
Wow! I could never write this well or in this style. It is definitely something for me to study.
Posted 09/22/2021 08:40 AM