Leaf after leaf drops off, flower after flower,
Some in the chill, some in the warmer hour:
Alike they flourish and alike they fall,
And Earth who nourisht them receives them all.
Should we, her wiser sons, be less content
To sink into her lap when life is spent?


This poem is in the public domain.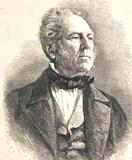 From a photo by Herbert Watkins
Walter Savage Landor (1775 – 1864) was an English writer. Termed "unruly" as a child, he was kicked out of school at 15, but managed to get accepted into Oxford two years later. (He got into trouble there, as well, and left after only two years.) Fascinated by Latin by the time he could read, he wrote most of his poems in that language throughout his life. While fellow poets admired Walter's poetry, it did not appeal to the masses; his prose was much more successful. Walter's personal life was ghastly—he pretty much remained "unruly" for his entire life, though he had loyal friends who steadfastly vouched for his kind heart, compassion, and sense of humor.
Janet Leahy:
In just six lines the poet gives us one of life's lessons. Thanks for his bio, he lived with gusto. I did not find the poem bleak.
Posted 09/25/2021 12:34 PM
pwax:
Not bleak at all. There is something very comforting in this poem. Perhaps it's the phrase, "sink into her lap." Thanks, Jayne.
Posted 09/25/2021 12:06 PM
KevinArnold:
Wonderful poem, and thanks for the bio. A man with a middle name of Savage, my my.
Posted 09/25/2021 11:18 AM
paradea:
Love this poem!!
Posted 09/25/2021 10:57 AM
michael escoubas:
Uplifting to be sure. The Victorian poets help us face what we often don't want to face. Appreciate the similarities noted between observable nature and physical man.
Posted 09/25/2021 09:28 AM
richard.cary@att.net:
This is poetry!!!!
Posted 09/25/2021 09:27 AM
cork:
It is a nice way to think about death.
Posted 09/25/2021 09:27 AM
Darrell Arnold:
Those old English poets had a way of perceiving the world and expressing their views about it that seems unique to them. I can't put my finger on just exactly how they did it, but I like it --even if I can't achieve it. I like Larry's comments. There is wisdom in what Manchester says, too, though it's less optimistic.
Posted 09/25/2021 08:41 AM
Larry Schug:
A poem of What Is and of acceptance. I admire Landor's life as a free spirit, hardly an "unruly" or "ghastly" existence, certainly no more than mine. Who would not want to be remembered thier friends as kind of heart, compassionate and possessing a sense of humor? "Alike we flourish and alike we fall".
Posted 09/25/2021 08:05 AM
r1manchester:
"her wiser sons"... sometimes I wonder
Posted 09/25/2021 05:42 AM