being of wrinkly age myself.
It's as if we were fellow immigrants
in the country of the young,
the fresh faced
and so often self-absorbed,
with their new enthusiasms
which they fancy
set the standards for all time.
No, give me a woman who knows
how fashions come and go
who's earned her wrinkles
with toil and grief
with whom I can empathize,
and compare notes.


© by Richard Greene.
Used with the author's permission.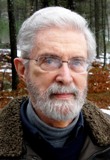 Richard Greene began writing poetry in the 8th grade, inspired by the opening lines of Longfellow's "Evangeline"—"This is the forest primeval. The murmuring pines and the hemlocks / Bearded in moss and in garments green, indistinct in the twilight"—which he was required to read in class. In college, after a classmate deemed Richard's rhyming poem "trite,"  he stopped writing until, a couple of years later, a class with Henry Rago, subsequently editor of Poetry magazine, inspired him to resume his efforts. But poetry fell by the wayside for almost forty years as a busy career in international development consumed his life. As retirement approached, however, Richard's dedication to poetry returned; he has now published a book, Explorations (Antrim House Books), and shares a "poem of the week" with anyone interested. (Get on his mailing list by requesting it at greeneplace@gmail.com.) Richard lives in Nyack, New York.
Janet Leahy:
Candle light is nice, the wrinkles still there but softer, great poem!
Posted 10/01/2021 05:38 PM
CamilleBalla:
A nice surprise poem. I enjoyed it and read it more than once.Thank you, Richard.
Posted 10/01/2021 01:47 PM
Lori Levy:
Great poem!
Posted 10/01/2021 12:14 PM
paradea:
Yes. Look for the wrinkles!!! We have so much more to say! Great poem!
Posted 10/01/2021 11:13 AM
KevinArnold:
Obviously, a man who knows just what to say.
Posted 10/01/2021 10:33 AM
Sharon Waller Knutson:
Fully wrinkled and qualified as an object of the speaker's affection, I can relate to this witty and wise poem. Bravo for being brave and bold to stick up for the old.
Posted 10/01/2021 09:39 AM
Larry Schug:
Especially wrinkles like parentheses or quotation marks around shining eyes!
Posted 10/01/2021 08:01 AM
KinVT:
Oh my, I suspect you will get many positive comments for this poem, Richard..& perhaps more than a few invitations to dinner as well. :) Thank you. Your poem made me smile..& decades of smiles add the best wrinkles.
Posted 10/01/2021 07:56 AM