I am back in Henry Clay Grade School, circa 1960s,
teacher at her wooden desk in the front of the room--
Miss Conforti or Miss Kehm, Miss Lange or Mrs. Mertz
ready to hand out the stacks of paperbacks
just arrived from Scholastic Book Club,
tissue-thin order forms slipped inside their front covers
like banners of anticipation and joy. What was it
this month, I hardly remembered all the boxes Iíd checked off,
and my parentsí generous yes to any book I wanted:
The Happy Orpheline, B is for Betsy,
All of a Kind Family, every one of them
smelling like library nooks and fresh newsprint,
The Adventures of Galdora, The Secret River,
all of them waiting for my name
to be called, for my hand to reach
across the threshold as if accepting a key to more
inexhaustible treasures of this world. †


© by Andrea Potos.
Used with the author's permission.
†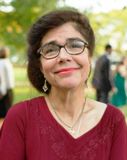 Andrea Potos, who writes in longhand, is a longtime independent bookseller and the author of numerous books; the latest is Marrow of Summer, from Kelsay Books. Andrea loves reading, travel, cafes, and walking beside lakes and on green trails—"of which there are many," she says, in Madison, Wisconsin, where she lives. Andrea's Greek grandparents and their spirit have been an abiding presence and inspiration throughout her life and poetry.
v
Jancan:
Love it! Takes me back to the time when books, held in one's hands, were indeed treasures.
Posted 10/04/2021 12:56 PM
Lori Levy:
Brings back memories
Posted 10/03/2021 09:55 PM
wordartdjc:
Ah, yes...What would this world be like without the books we so rely upon. Here we enjoy and take from them the wit, joy, knowledge, and spirit of other humans. It all begins in our childhood and now continues through this long life of mine.
Posted 10/03/2021 09:05 AM
Rob:
You capture here so well that excitement of getting the Scholastic books! Thanks for the lovely trip down memory lane!
Posted 10/03/2021 07:39 AM
wayne.goodling@yahoo.com:
By the end of line five, you had taken me back to North Liberty Grade School circa 1950s. Somehow you just crawled inside my mind to explain how I had been taking home much more than just a stack of books. And also thank for letting me know that I'm not the only author who writes in longhand. A good poem. Thank you.
Posted 10/03/2021 06:08 AM