At our age, in these times,
we call any outing a "date" --
the supermarket, fast-food drive-thru,
a walk around the block.
†
Today it was back-to-back appointments
with our cardiologist.
She went in first, then I was invited
to join her as she finished up.
†
The doctor read our EKGs, long
mountain ranges of heartbeat,
and said everything looked good.
The three of us talked test results,
blood pressure, cholesterol,
prescriptions, exercise, diet,
and summer plans.
†
We left, papers in one hand,
each other's hand in the other,
two hearts moving us forward
with a promise of new adventures.


© by Bruce W. Niedt.
Used with the authorís permission.
†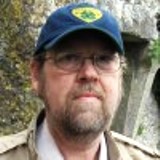 Bruce W. Niedt is a retired civil servant and a lifelong resident of southern New Jersey. A happily married father of four and grandfather of three, his† poetry has appeared in numerous journals.and he is the author of seven poetry chapbooks. Bruce's first full-length collection will be released by Kelsay Books in 2022. Learn more about him at bniedt.blogspot.com.
Lori Levy:
Two hearts moving us forward. Beautiful.
Posted 10/05/2021 09:53 PM
wordartdjc:
If you are over seventy, who of you have not experienced this poem in person? My only remark is that it made me conscious of the fact that now I have no other hand to hold and this makes me very sad. Yes, I did have this grand feeling for many years for which I am grateful.
Posted 10/05/2021 02:59 PM
paradea:
I like this poem!!
Posted 10/05/2021 01:24 PM
michael escoubas:
How true, Bruce. We feel closest, I think, when we support each other in and thru health concerns . . . we take nothing for granted at this stage of our lives . . . grateful for each sunrise.
Posted 10/05/2021 10:38 AM
Shoshauna Shy:
My parents went everywhere together. Even to pick up toothpaste at Walgreens.
Posted 10/05/2021 09:19 AM
Sharon Waller Knutson:
I enjoyed this poem because I too am at the age that any outing can be called a date. I loved the tile and my favorite line was: "We left, papers in one hand, each other's hand in the other, two hearts moving us forward with a promise of new adventures."
Posted 10/05/2021 06:18 AM
Rob:
EKG date! Love that! Let the adventures--and lovely poetry--continue!
Posted 10/05/2021 06:07 AM