Grow old along with me!
The best is yet to be—
Robert Browning: Rabbi Ben Ezra, 1864
 
One day my neighbor,
by then an old woman,
stopped for a cup of tea
and a spot of poetry.
As I searched in the fridge
between the asparagus and the lettuce
for the milk she liked, she was saying,

" 'grow old along with me, the best is yet to be' …?  
No, dear, the poet lied!
the best is not yet to be: I am cold
from all that's gone and not to be.
I weep real tears yet go on."

Strange place
to meet Browning, in the fridge; the light went on
as it does when you open the door and the cold smacks at you.

I remember now as you and I lie, old,
side by side, breathing as one, two yet one,
yet still two shadows fleeing into the dark:
the best is never yet to be.
to be is best.


© by Grace Hughes Chappell.
Used with the author's permission.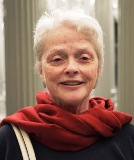 Grace Hughes Chappell says, over the years, she's been a mom, a daughter, and a sister, has taken care of 'things' (house repairs, car repairs, relationship repairs), worked as a private tutor, an English teacher, a travel agent, a receptionist, a telephone book delivery-person, a house cleaner, a reader to the visually impaired, a caterer, a snow-shoveler, and she has written. Her work is widely published and she is the author of ten mile creek almanac. Grace lives in northern California near the Eel River, where she and her husband maintain a garden and an apple orchard. Her advice for a good life is be as kind as you can be (and maybe a little more than that), enjoy your family and your friends, don't be a drag (laugh a lot, sing, dance, do anything that involves music), read a lot, learn to cook a decent meal, watch sunsets and birds and dogs, and—last of all—find something to do for which you have some aptitude. "You don't have to be a genius," she says, "just work!"


Wilda Morris:
Well done!
Posted 10/09/2021 10:50 AM
Lori Levy:
Beautiful and insightful.
Posted 10/07/2021 06:59 PM
Jancan:
Very thought-provoking and moving
Posted 10/07/2021 04:51 PM
paradea:
Love this poem.
Posted 10/07/2021 02:24 PM
Shirley Radcliff Bruton:
I love everything about your poem! It takes us to new places and thoughts. Your bio is priceless. Many thanks for all the good advice.
Posted 10/07/2021 01:48 PM
CamilleBalla:
Clever, turns on the light, great use of the craft that is poetry. Ditto to everyones comments.
Posted 10/07/2021 12:35 PM
michael escoubas:
Both wise and witty! Thank you, Grace.
Posted 10/07/2021 11:57 AM
Sharon Waller Knutson:
I love this clever, wise and insightful poem. My favorite lines are: "Strange place to meet Browning, in the fridge, the light went on as it does when you open the door and the cold smacks at you." The last line in the poem smacks me in the face. "To be is best." and
Posted 10/07/2021 09:08 AM
Larry Schug:
Be still my pounding heart! A dynamite poem. Indeed, "the light went on"!
Posted 10/07/2021 08:46 AM
peggy.turnbull:
I love the turns in this poem. Constant surprises.
Posted 10/07/2021 07:50 AM
richard.cary@att.net:
Yes!!! Good poetry is good food! :>)
Posted 10/07/2021 05:35 AM
Rob:
Love "when you open the door and the cold smacks at you". Great capturing of that feeling, and a lovely poem overall!
Posted 10/07/2021 05:10 AM
r1manchester:
well done!
Posted 10/07/2021 05:07 AM