The wind is blowing,
The leaves are flying,
A nip of frost's in the air.
 
And out on my street,
I can hear the feet,
Of goblins everywhere.
 
Black cats are stalking,
And ghosts are walking,
It seems I'd better beware
 
Of all this candy,
That's here beside me.
I'm thinking I'd better share.


From The Fickle Muse (2021).
Used here with permission.
Kate Tompkins lives in Montreal with her husband of 30+ years and a very spoiled cat. When not providing a warm lap for the cat, she writes poetry—some of it serious and some of it "silly," she says, "about cats and gardening." Kate's e-chapbook, The Fickle Muse, is available at https://books2read.com/b/3ya1BL. She is currently working on a second book of poems, as well as a short story collection about a city girl/pastor's wife adjusting to life in a small town.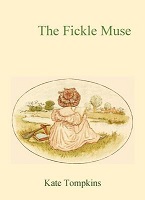 Darrell Arnold:
Cute and fun.
Posted 11/07/2021 03:25 PM
Adriana:
adorable - love the surprise ending
Posted 11/02/2021 06:41 PM
KateTompkins:
Thanks so much!
Posted 11/01/2021 08:10 AM
Jancan:
Delightful!
Posted 11/01/2021 12:28 AM
Sharon Waller Knutson:
I love this musical delightful Halloween poem. I'm not an expert on poetry forms but it looks like multiple tercets that are well crafted and the rhyme scheme is perfect.
Posted 10/31/2021 01:44 PM