Flying into town
that first time, leaning over
the gull-winged sweep
of the handlebars, the burn in my
pudgy, mad-pumping thighs
told me I was fast, was
free, was finally entering
the my country 'tis of thee
we'd all been singing,
sweet land of weekend-
playground liberty.
That mile I'd never ridden
was a hundred miles,
the fresh fall breeze speed itself
as those fat tires
snarled through dunes
of shoulder gravel and
eddies of falling leaves.
When I jumped the curb
onto the school's front sidewalk
town kids, exotic friends named
Cindy, Billy, Darlene, and Gary,
were already gathered, long
unchaperoned, at ease,
their preadolescences already
underway, their slow turn
toward my approach blasé
as I came skidding into
that newest of my old
neighborhoods of memory.
 
 
This poem first appeared in If god were gentle (Dos Madres Press, 2017).
Used here with permission.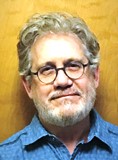 D. R. James lives in the woods near Saugatuck, Michigan, where he and his wife, psychotherapist Suzy Doyle, road cycle the backroads along Lake Michigan. D. R. has taught writing, literature, and peace studies at a small college for 36 years. A late-bloomer in writing poetry, starting at nearly 50, he has since published 10 collections, the most recent being Flip Requiem and Mobius Trip (Dos Madres Press, 2020, 2021). His micro-chapbook, All Her Jazz, is free, fun, and printable-for-folding here.
Lori Levy:
Great! I can identify with this memory.
Posted 11/02/2021 06:03 PM
paradea:
I love this!!!
Posted 11/02/2021 11:30 AM
KevinArnold:
Love their preadolescences already / underway,
Posted 11/02/2021 10:23 AM
Michael:
Wonderful cascade of memories, Mr. James--indeed, this is among the many purposes served by poetry. Thank you.
Posted 11/02/2021 08:32 AM
wordartdjc:
Oh, I do love this poem. Although I never had the privilege of a two-wheeler, I was with this poet every mile of his journey. What a wonderful poem of freedom for this fifth-grade student. I felt that I was with him every mile of the way.
Posted 11/02/2021 07:59 AM