Thanksgiving, 2002

Emma was my grandmother too,
tied through wedding vows to
her youngest grandson my one true love.
On her back porch, she held my
hands and sang ancient
nursery rhymes in German, her very
first tongue. The songs, her soft,
steady voice, called up hummingbirds
hovering just above
pots of lantana and marigolds.
Now whatís left is a scrap of paper,
the whispy blue ink
turned brown, her recipe
for pecan pie. Each time I fold in
the butter, chop the
pecans, measure the light brown
sugar, same shade as the ink,
she holds my hands,
hums an old tune about the
little girl down the lane. My kitchen heats up.
Next thing I know, there are hummingbirds.
A slice of pie, a cup of coffee,
a language I donít know, but still it comes
to me. We hover there,
our tiny wings, our rapid hearts,
our solitary belief in sugar and pecans.


Copyright 2012 Kathi Appelt. All rights reserved.
Used here with permission.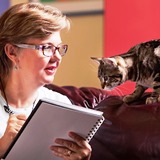 Kathi Appelt was born in North Carolina but grew up in Texas. A National Book Award finalist, Newbery honoree, and recipient of many other awards, Kathi is the author of more than 40 books for children and young adults. She has two grown children and lives in Texas with her husband. Learn more about†Kathi at www.KathiAppelt.com.
†
jamvan:
so lovely - thanks
Posted 11/26/2021 11:10 PM
Lori Levy:
Beautiful tribute to Emma.
Posted 11/26/2021 08:17 PM
peninsulapoet:
You had me at Pecan Pie ❤️❤️❤️❤️
Posted 11/26/2021 04:55 PM
KateTompkins:
Gorgeous.
Posted 11/26/2021 08:57 AM
Larry Schug:
I've often thought of baking as conjuring, turning stalks of wheat and the fruit of trees into sweet foods seems much the same as spinning straw into gold. Recipes have long lives and lives live long inside them.
Posted 11/26/2021 08:42 AM
wordartdjc:
This is an absolutely beautiful poem. It manages in those heartfelt lines a picture that we can see fully, a story in itself and wonderfully accomplished.
Posted 11/26/2021 08:36 AM
Sharon Waller Knutson:
I am enthralled by this photographic sensual poem. I can see the grandmother sitting on the porch holding the hands of her granddaughter by marriage, hear the ancient German fairy tales, see the hummingbirds hovering, smell the scent of marigolds and pecan pie baking in the oven and taste the sugar and pecans.
Posted 11/26/2021 07:18 AM
paula:
a lovely poem, a lovely memory
Posted 11/26/2021 05:14 AM