Breathing seems so simple
Yet I forget it so easily
when the previous things
the damaging things arise
and again threaten to envelope my heart
attempting to reach again into my soul
 
Then I need to breathe
deeply and honestly
freely and refreshingly
when my soul is drowsy and threatening to sleep
I breathe
 
I breathe in the beauty of a sunrise and the serenity of a sunset
I breathe in the goodness and richness of friendships
rare and life-giving
I breathe in the wonder of those who love me
and love itself
I breathe in the grace and forgiveness that sustain me
and carry me through my life
I breathe in the comforting silence warming my heart
I breathe in the wonder of where I am and how I got to this place
A life transformed
 
In the cold and frosty early morning
when I see my breath hanging in front of me in that stillness
I see the life within me
because I breathe


© by Timothy McQuade.
Used with the author's permission.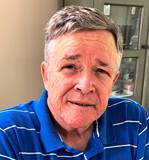 Timothy McQuade has occasionally written poems over the years, but finds he is now doing that on a more frequent basis. "Engaging in poetry encourages me to slow down and experience what could easily be missed in a rushed life," he says. When not writing poetry, Timothy works as an interim pastor, leading congregations through challenging transitions in pastoral leadership. He lives in Cincinnati, Ohio.
Jancan:
Very moving and expressive
Posted 12/04/2021 12:23 AM
Lori Levy:
Great ending to the beauty of this poem.
Posted 12/03/2021 01:20 PM
KinVT:
Very beautiful. Perfect message for trying times. Thank you.
Posted 12/03/2021 12:21 PM
CamilleBalla:
Yet I forget it so easily. Thank you for the reminder. Lovely poem.
Posted 12/03/2021 10:45 AM
KateTompkins:
Just what I needed to hear this morning.
Posted 12/03/2021 09:29 AM
KevinArnold:
Great poem. Jennifer Warnes cover of Just Breathe is one of my very favorite songs.
Posted 12/03/2021 09:27 AM
bobbi43sml@aol.com:
I sang for years with a spiritfilled , beautiful group of women called Persephone's Daughters. We often sang a four part chant "when is breathe in, I breathe in love, when I breathe out, I breathe out peace" Your poem creates the same satisfying and centering feelings. Thank you
Posted 12/03/2021 09:16 AM
cork:
As a swimmer, I have always recognized the importance of breathing.
Posted 12/03/2021 08:57 AM
Manya:
This poem is just lovely. It really speaks to my heart!
Posted 12/03/2021 08:50 AM
Larry Schug:
Yup, it's all about breathing, being mindful of your breath. I like the ending of this poem. How cool it is to be able to see our breath.
Posted 12/03/2021 07:56 AM
Jccjccac@aol.com:
Just simply beautiful!!
Posted 12/03/2021 06:38 AM