For much of our lives we wish we could hurry time,
become one of the older kids,
then an adult,
graduate,
end the week's work sooner,
gallop to an anticipated holiday or anniversary,
shorten the wait for a child to be born,
and we're pleased when time seems to run flat out.
 
Then one day we notice
the end of the course is in sight
and we'd like to slow down.
But time keeps cantering
at its habitual pace
immune to rein and spur alike
and what seemed so slow before
now seems all too fast.


© by Richard Greene.
Used with the author's permission.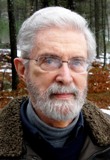 Richard Greene began writing poetry in the 8th grade, inspired by the opening lines of Longfellow's "Evangeline"—"This is the forest primeval. The murmuring pines and the hemlocks / Bearded in moss and in garments green, indistinct in the twilight"—which he was required to read in class. In college, after a classmate deemed Richard's rhyming poem "trite," he stopped writing until, a couple of years later, a class with Henry Rago, subsequently editor of Poetry magazine, inspired him to resume his efforts. But poetry fell by the wayside for almost forty years as a busy career in international development consumed his life. As retirement approached, however, Richard's dedication to poetry returned; he has since published three chapbooks: The Broken Guitar: Poems of War; Becoming Old: Poems of Aging; Painting with Words: Landscapes in Verse; and one full -length collection, To Talk of Many Thingss: Selected Poems. Richard, who lives in Nyack, New York, shares a "poem of the week" with anyone interested; get on his mailing list by requesting it at greeneplace@gmail.com.
Lori Levy:
True! Happy New Year to all of you.
Posted 12/31/2021 06:34 PM
Anastasia:
Especially during the pandemic, time has been slow and fast simultaneously. This year has been endless, but has also gone by too fast for me to do all the things I needed to accomplish.
Posted 12/31/2021 02:12 PM
Sharon Waller Knutson:
I love this wise poem full of truths and perfect thoughts to end 2021. The older I get the faster time flies. I remember past events as if they happened yesterday.
Posted 12/31/2021 11:03 AM
KevinArnold:
WHAT a wonderful poem. Immune to rein and spur alike appeals to the retired foxhunter in me. So perfect for December 31.
Posted 12/31/2021 10:41 AM
richard.cary@att.net:
I love "getting old" poems; "The End Of The Race" is much appreciated; I cannot help but share this one of mine: TEETERING OVER THE VOID Teetering over the void From whence I came, Tendons tightened, Un-oiled hinges dry, My voice grown narrow, I see where doors await, Ajar and inviting. Barely able to keep my balance I hold to a walls steady corner. I hesitate to jump and trust what follows: An odd resentment of Deaths lullaby? Or the simple enjoyment Of doing that which will be done? Give me one long last look back Before I click the light switch off.
Posted 12/31/2021 10:39 AM
Jgonzalez 1994:
I love this poem so true. Time goes on and on indifferent to us. You want to stop it for a second but it doesn't care what you have to say
Posted 12/31/2021 09:57 AM
wordartdjc:
Absolutely Beautiful. This poem certainly touched my spirit on this last day of the year.
Posted 12/31/2021 09:42 AM
cork:
I like seeing time as a runaway horse.
Posted 12/31/2021 08:56 AM
Michael:
As an octogenarian friend once averred to me, "We're in the last chapters of our story; what shall we write down?" Nicely said, Richard.
Posted 12/31/2021 08:47 AM
pwax:
Well done, Richard! There's something timeless about this poem. And, a perfect title.
Posted 12/31/2021 08:37 AM
Darrell Arnold:
Richard's observation happens to all of us seasoned citizens. One day we realize that not only can we no longer do things that used to come easily, but we have things we've wanted to do our whole lives, and we haven't gotten them done yet. At my age, 75, time is no longer cantering. It's in a full gallop. I love doing honey-dos for my wife, but I'm jealous of any time taken away from my poetry writing at the computer. I'm not much of a fan of unrhymed poetry, but I'm hanging on to this one. Quite nice, indeed.
Posted 12/31/2021 08:21 AM
Larry Schug:
As it has always been, is, and will always be. apparently. Can't do anything about it but live in the present.
Posted 12/31/2021 08:12 AM
therealtoni:
Very beautiful. I wish someone had told me this many years ago!!
Posted 12/31/2021 05:30 AM