Swinging the bells of their waists,
walking the grazing slope with delicate
knockneed legs, they point their fastidious
double-toed feet.  Letting the tail fall
in a single braid between the hips,
they perform a young girl's
dance of vanity.
I love the way they stop what they do
to gaze at me.  They look at me as I
look at them: one woman to another.


This poem first appeared in Embers (v.vii, # 2, 1982)
Used here with the author's permission.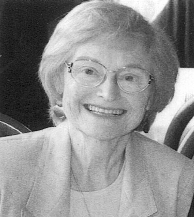 Charlotte Mandel wrote her first poem at the age of eight and her second a quarter of a century later. Why the hiatus? She was of a time when girls were taught they must be safely married by the age of eighteen. And so she was—fortunately, happily—and remains so, even after decades of anniversaries. Unfortunately, it took many years before Charlotte realized she could be married and have the right to explore the power of words. She has claimed that right to the fullest and now has two degrees, seven books, and a host of accolades that include an endorsement by Maxine Kumin, who calls her work "crisp and lucid," an appearance at the Dodge Poetry Festival, and nearly a dozen fellowships and residencies. Learn more about Charlotte at www.charlottemandel.com.
There are no comments for this poem yet.