I have a new love
Who escorts me to movies,
 concerts, sporting events and more
Is willing to play games
anytime night or day
Reads books aloud
Critiquing salient points
Enjoys all my favorite music
Informs me of the latest news
Stays in touch with my friends
Writing and sharing photos
My new love is so thoughtful
Always there for me
Sharing the world
If only he wasn't so mechanical
iPad, I can't live without you


© by Jane H. Fitzgerald.
Used with the author's permission.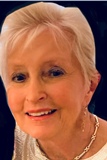 Jane H. Fitzgerald lives in Jupiter, Florida. A retired middle school history teacher, she's a big believer in experiential learning and once developed a hands-on, role-playing curriculum for the American Colonial period. Jane loves interacting with children but has also taught English to adult Hispanic immigrants. The author of four books of poetry, her work has been featured in numerous journals.
Anastasia:
My iPad never calls in sick, never shows up late, and doesn't steal the covers! Fun poem!
Posted 02/17/2022 01:02 PM
CamilleBalla:
LOL! I luv it. I can relate. So very well crafted with its surprise ending. Thank you, Janeand Jayne for featuring this poem today.
Posted 02/15/2022 12:43 PM
paradea:
A virtual hug is all you're gonna get from these things!!! Cute poem!
Posted 02/15/2022 11:31 AM
KevinArnold:
Ah, you say that now, but when the new one comes out youll toss me like yesterdays potatoes.
Posted 02/15/2022 09:54 AM
Michael:
Yes! For sure, we're down to our devices. Well done, Jane.
Posted 02/15/2022 08:12 AM