The framed photograph,
purchased on a trip to Toronto,
two years ago, sits in a corner,
like a shy child waiting
for an invitation to play.
†
There doesnít appear to be room
between Grandmaís last portrait
and the parrot batik. Or enough space
beside the mountain lake landscape.
†
I scan my cluttered walls, seeking
solutions. Could the parrot cover
the smudge by the stairs? Would Grandma
look good in the light by the window?
†
A few taps from a hammer shift
my thinking, reveal arrangements
not apparent before.
†
Next morning, I sip coffee in my kitchen,
smile at the tallest tower in Toronto, surprised
to feel delight in a different view.


© by Jacqueline Jules.
Used here with the authorís permission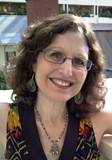 Jacqueline Jules is a former librarian who found herself intrigued by almost every book she put on the shelf. As a reader and as a writer, she doesn't restrict herself to one genre. A resident of Virginia, Jacqueline is the author of 40 books for young readers on a wide variety of topics. Her poetry has appeared in more than 100 publications, including three chapbooks: Field Trip to the Museum (Finishing Line Press), Stronger Than Cleopatra (ELJ Publications), and the award-winning Itzhak Perlman's Broken String (Evening Street Press). Learn more about Jacqueline at www.jacquelinejules.com.
Tracers645:
Great last line - "...surprised to feel delight in a different view." Cute poem.
Posted 02/17/2022 04:44 PM
CamilleBalla:
I like this this poem that reminds me that Im almost ready to make some changes on my walls. Some things deserve my attention, my enjoyment. Soon. Thanks.
Posted 02/17/2022 12:31 PM
Anastasia:
Most of our wall space is taken by bookcases, so we've adopted the Uffizi approachpack as many pieces on the available walls! And oh, the rearranging when a new piece comes home with usit's exactly like this!
Posted 02/17/2022 12:24 PM
wordartdjc:
Scenes, fading letters, photographs. cards. How each makes us remember. Remember! Now, these memories... make us complete. I am so saddened for those persons who no longer have this beautiful blessing of memory.
Posted 02/17/2022 11:22 AM
Sharon Waller Knutson:
I love this clever charming poem. Need a different view? Just move Grandma, the parrot or the landscape and you can see the tallest tower in Toronto.
Posted 02/17/2022 09:33 AM
Darrell Arnold:
We live in the kind of house Jacqueline describes. Our home is a museum of treasures -- photos, artwork, hats, spurs, chaps, bridles, rocks, trophies, quilts, shelves of antique irons, antique toys, books, figurines, nicknacks. So much stuff reminding of so many memories. And we have much more to hang and no walls left on which to hang it. It's a joyful dilemma. We're surrounded by stuff we don't want to live without.
Posted 02/17/2022 08:25 AM
Larry Schug:
A skillful ending to a poem, that seems to me to be about the power of perception.
Posted 02/17/2022 07:08 AM