The trees are bare,
the skies are bleak;
spring's not due for
a few more weeks.
I'm patient though,
I'll do my bit --
I'll just sit here
and wait for it.


© by Pat Brisson.
Used with the author's permission.

Photo credit: Sally Keehn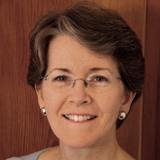 Pat Brisson is a former elementary school teacher, school librarian, and reference librarian in a public library. She has been writing picture books and easy-to-read chapter books for almost thirty years and has received the N. J. Governor's Volunteer Award in Human Services for her philanthropic work. Pat lives in Phillipsburg, New Jersey; learn more about her at www.patbrisson.com.
Sally Keehn is an amateur photographer, former librarian, young adult book author, and aspiring painter. She loves to explore—whether it's the past, another country, or her own back yard. After living in Pennsylvania for more than forty years, Sally now lives in western Massachusetts.
Tracers645:
Cute!
Posted 02/21/2022 02:15 PM
Kelly Scott:
Kelly: Bravo! Wise and Simple but a Delight!
Posted 02/20/2022 10:33 PM
Michael:
Wonderful art to accompany this "get-down-basics poem.
Posted 02/20/2022 06:16 PM
Anastasia:
As much as I wish I could, I can't control the weather, so I'll pull up on this bench and wait as well!
Posted 02/20/2022 04:40 PM
Jancan:
My sentiments exactly!
Posted 02/20/2022 04:00 PM
Lori Levy:
I agree with Larry. The poem and photo go well together.
Posted 02/20/2022 11:00 AM
KevinArnold:
More brief Spring fun. Thanks!
Posted 02/20/2022 10:21 AM
Jgonzalez 1994:
Appreciate it all even the winter. Because even the winter has beauty too
Posted 02/20/2022 09:40 AM
Larry Schug:
Can't help but like the photo and the beckoning bench in juxtaposition with the poem. I like the grainy texture of the picture. It's like two poems for the price of one.
Posted 02/20/2022 07:57 AM