Questions demand comment
ask for a response in return
unless received in an email

online answers are not needed
nor require necessary reply
letters sent via World Wide Web

filling my Internet inbox are
forwards with attachments of
jokes and videos and pictures

sent from relatives friends and
friends of relatives and friends
of friends who want to be friends

addressed to blocks of names
with my name target for more
mass mailings mailed tomorrow

rather than spurn snub tick off
brush off or ask off their lists
I adhere to electronically ignore

all email mailings other than ones
having those realy good attachments
that I send to you and everyone else


From Old Mill Road (2018).
Used here with permission.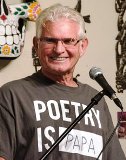 Carl "Papa" Palmer lives in University Place, Washington now, but grew up on Old Mill Road (the name of his latest book) in Ridgeway, Virginia. Retired from the military and the Federal Aviation Administration (FAA), he enjoys being a Franciscan Hospice volunteer and being "Papa" to his grand descendants. Carl is the author of nine chapbooks and his work has been published in more than 200 journals around the world. His motto is "Long Weekends Forever!"
carlpalmer:
I think Cork has the best solution. Seems like when I delete without opening gets me off lists, however if I "unsubscribe" tomorrow my mailbox bursts at the seams.
Posted 03/04/2022 04:33 PM
paradea:
Delete, delete, delete!!! I had almost 15,000 emails piled up in my inbox. Took me two days of deleting and unsubscribing!! Never again! Love this poem!!!
Posted 03/04/2022 11:46 AM
Manya:
🤣😂🤣
Posted 03/04/2022 09:30 AM
cork:
I have been busy making group mailing lists.
Posted 03/04/2022 09:21 AM
Michael:
I hear you Carl, when it comes to long weekends! And yes, to "Unplugging" too, but how? Do we have the will power?!?! Talk about addictive behaviors . . . this poem is great fun. Thank you.
Posted 03/04/2022 09:07 AM