The ravenous squirrels
who put us to bed in October
have forgotten where we're buried
beneath layers of fallen oak leaves.
In March, bloated with melted snow,
we crack open our shells
shuck our nightcaps,
throw off our blankets,
wake to discover we have changed.
We sink our new feet into the forest floor
and wave our skinny green arms in joy
as if we own the sky.


© by Larry Schug.
Used here with the author's permission.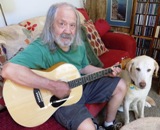 Larry Schug is retired after a life of various kinds of physical labor and currently occupies his time by volunteering as a writing tutor at the College of St. Benedict/St. John's University writing centers and as a naturalist at Outdoor U. He's also learning to play a cigar box guitar and is branching into putting music to words. Larry has published eight books of poems and lives with his wife, dog, and two cats near a large tamarack bog in St. Wendel Township, Minnesota.
Adriana:
adorable (as in shuck our nightcaps) - fun point of view - wonderful language, especially the last three lines
Posted 03/17/2022 10:48 PM
Missy Lee:
As always, Larry uses metaphor to show how truths for humans and the natural world are one and the same. I appreciate the exhale Larry's work offers. Every time. (Sigh...)
Posted 03/08/2022 02:56 PM
paradea:
Truth!!! Love this poem
Posted 03/08/2022 02:38 PM
MLove:
I will always remember this poem when crunching on the thousands of acorns that litter my yard and drive!
Posted 03/08/2022 01:36 PM
cork:
I love hearing the acorns telling their story and their prediction of future growth since the squirrels forgot where they were buried.
Posted 03/08/2022 01:34 PM
Arlene Gay Levine:
Love the personification and "wave our skinny green arms in joy as if we own the sky."
Posted 03/08/2022 12:22 PM
cscoville:
A really lovely poem and a wonderful poet bio.
Posted 03/08/2022 10:46 AM
KateTompkins:
Love it! I always figure the tulips that pop up in places I didn't plant them are the work of those furry gardeners.
Posted 03/08/2022 10:37 AM
KevinArnold:
What great fun!
Posted 03/08/2022 10:13 AM
Gilbert Allen:
The nightcaps are a nice touch! I enjoyed this tribute to the coming of spring.
Posted 03/08/2022 10:04 AM
DavidTookey:
Well done Larry. What a creative perspective!
Posted 03/08/2022 09:39 AM
Jeanette:
Love the viewpoint of an acorn. Jeanette Blonigen Clancy
Posted 03/08/2022 09:36 AM
Sharon Waller Knutson:
I love this sparse, uplifting, humorous poem from the point of view of an acorn. Favorite line: We sink our new feet into the forest floor and wave our skinny green arms in joy as if we own the sky.
Posted 03/08/2022 07:59 AM
RonPoems:
The voice of an acorn, wonderful.
Posted 03/08/2022 06:55 AM
Nicholas:
Love this :)
Posted 03/08/2022 05:18 AM