promise nothing,
not spring—early
or late—nor joy.
But just for today
three red tulips
(basking on the sill)
might blossom into

song.


This poem first appeared in The Journey II: Christine Alfery Fine Art and Wisconsin Poets (2017).
Used here with permission.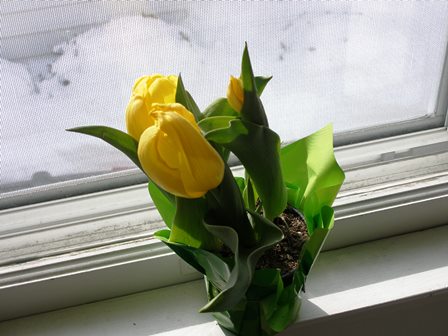 CJ Muchhala lives in Shorewood,Wisconsin near Lake Michigan, but maintains a getaway on the Wisconsin River. Her poetry, fiction, and children's stories have been published in a variety of online and print journals, anthologies, and art/poetry exhibits. When she's not writing, CJ says she enjoys gardening "using the 'benign neglect theory," and baking bread "following the 5-minute method."

Lori Levy:
Beautiful.
Posted 03/14/2022 03:15 PM
VodVonDetta:
My tulips have just come in, really brightens the morning!
Posted 03/14/2022 11:28 AM
KevinArnold:
Fun. We have tulips regularly, and await their opening.
Posted 03/14/2022 11:02 AM
paradea:
Love this!!
Posted 03/14/2022 10:35 AM
jpallen:
Beautiful.
Posted 03/14/2022 09:09 AM
Wilda Morris:
Lovely! Thank you!
Posted 03/14/2022 09:06 AM
Michael:
The tulips, in and of themselves, are enough! Thank you, CJ.
Posted 03/14/2022 08:36 AM