She wore her yellow sun-bonnet
She wore her greenest gown;
She turned to the south wind
And curtsied up and down.
She turned to the sunlight
And shook her yellow head,
And whispered to her neighbour:
"Winter is dead."


This poem is in the public domain.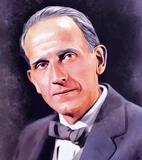 Alan Alexander Milne (1882 –1956) was a British author, editor, poet, and playwright. Born in London, he is best known for his children's books about Winnie-the-Pooh, but produced a vast amount of work in other genres. Interestingly, his degree was in mathematics. Milne served in both World Wars, despite his position as a pacifist. Though he suffered poor health in later years, he was at one time a gifted cricket player.
Janet Leahy:
Love the title, each line is perfect and the ending exquisite. Thank you Jayne
Posted 03/21/2022 12:22 PM
KevinArnold:
The courage to extend that last line: yes.
Posted 03/21/2022 09:38 AM
Michael:
The best poets do not need many lines to create their testimonies to joy!
Posted 03/21/2022 09:20 AM
cork:
What a delightful title!
Posted 03/21/2022 08:58 AM
Jancan:
Oh, how I love this!
Posted 03/21/2022 08:26 AM
Larry Schug:
We are all hopeful of putting winter(and war and death and misery) behind us. Such a wondrous and profound poem. Milne, soldier, poet and pacifist uses metaphor exquisitely in these words of Hope.
Posted 03/21/2022 07:51 AM
Darrell Arnold:
Succinct and brilliant. I'll bet there have been parents who taught that one to their children when spring came.
Posted 03/21/2022 07:47 AM