An egret, I think, tall gray bird
in the shallows of a small pond
by the fields behind the high school,
poised, quiet, elegant, intensely
focused, its head with its long beak
snapping suddenly like a whip
into the water, stabbing at one
of the innumerable plump, brown
tadpoles beginning to kick their frog legs.
But he misses, comes up empty,
his beady eyes staring down
into the dark water, incredulous
at having failed and,
if I didnít know better, a little
bit embarrassed about it too.


© by Michael Estabrook.
Used with the authorís permission.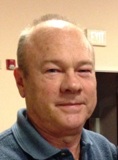 Michael Estabrook, a small press poet since the 1980s, says he is "always striving for greater clarity and concision and for rendering language more succinct, precise, accessible and appealing--a Sisyphean adventure for sure." Now retired after 40 years, Michael, who lives in Acton, Massachusetts, is enjoying having more time to write and to work outdoors. He has published more than 20 collections, a recent one being The Poet's Curse, A Miscellany (The Poetry Box, 2019).

Jancan:
Delightful, descriptive piece!
Posted 03/24/2022 08:33 AM
Jo:
What fun this egret poem. I enjoyed it very much.
Posted 03/23/2022 11:51 PM
Lori Levy:
Great portrayal of the egret and great ending.
Posted 03/23/2022 06:06 PM
Wilda Morris:
A fun poem, Michael! A delightful reading to start the day!
Posted 03/23/2022 09:22 AM
KevinArnold:
Talk about effective anthropomorphism!
Posted 03/23/2022 09:14 AM
Michael:
Nicely done, Michael . . . wonderful details and a bonus of personification about this interesting creature's likely emotions.
Posted 03/23/2022 08:27 AM
Larry Schug:
Personification leads to metaphor. The egret continues to fish. It needs to eat.
Posted 03/23/2022 07:27 AM
Anastasia:
A vivid image, and a relatable feeling!
Posted 03/23/2022 05:50 AM