††††††††††††††††††††††††††††††††††† forsythia
†
Against the barren grey background
of lingering leftover winter,
this brilliant bit of hope
bursts forth from a thicket
of untamed branches.
Reliably reappearing each year,
it always surprises.
Its petals have sprung open
into a sprightly yellow smile,
and though this blossom
may be dainty,
when gathered with others
into bunches on the bush,
itís the wildly giddy welcome
of Spring.


© by Joan Kantor.
Used here with the author's permission.
†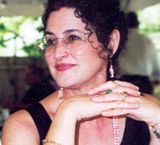 Joan Kantor lives with her husband in Collinsville, Connecticut. A college counselor and learning disabilities specialist for many years, Joan also has training in education and marriage and family therapy. Active in a number of poetry outreach efforts, she is a member of the International Academy for Poetry Therapy and collaborates with both visual artists and musicians in Stringing Words Together, an interactive program of poetry and violin music. Her most recent chapbook is Too Close For Comfort (Aldrich Press).
KinVT:
I loved this! It captured exactly everything I feel about forsythia.
Posted 04/04/2022 08:49 PM
CamilleBalla:
Wow!! Every line, the title, and so true. Now I know why I have a few forsythia in a tall clear turquoise vase at center of my living room window. Untamed branches, yet dainty blossoms are a wild welcome to Spring. So wonderfully crafted. Thank you!
Posted 03/26/2022 11:34 AM
Lori Levy:
Beautiful image of the forsythia--dainty blossoms, but "wildly giddy" on the branches.
Posted 03/25/2022 05:51 PM
Janet Leahy:
Sometimes it would seem the "lingering leftover winter" lingers a bit too long. Wonderful language in this delightful poem.
Posted 03/25/2022 12:22 PM
Michael:
Seeing and "whiffing" the blessings of spring . . . thank you Joan.
Posted 03/25/2022 09:28 AM
Larry Schug:
Jayne, I have been enjoying so much the selection of Spring poems you've chosen over the last couple weeks. "Harbinger" contains great alliteration which fosters the transition from winter to spring nicely.
Posted 03/25/2022 08:05 AM