Gold
poppies
spring to life.
Bold, neon splashes
gild hills and meadows,
gladden eyes and heal hearts,
soothe troubled, turbulent minds
with orange glow and vibrancy flow.
No place for sorrow or grieving now
this gold unfolds promises of solace.


© by Norma Wightman.
Used with the authorís permission.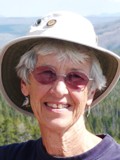 Norma Wightman lives in Morro Bay, California, where she walks the beach daily, leads nature hikes in local state parks, and enjoys yoga, kayaking, and birding around the beautiful central coast. Norma's poems have appeared in local publications and art exhibits and she has published chapbooks for family and friends. Her inspiration, she says, comes from everyday items and nature.
Jancan:
This lovely, expressive poem conveys a powerful message about how the beauties of nature enrich our lives.
Posted 04/08/2022 11:04 AM
CamilleBalla:
I like this poem that has been inspired by Michaels etheree and these gold poppies. I never knew of an etheree before nor did I know of gold poppies until now. It seems like it could be fun to try writing an etheree one of these days. Thanks!
Posted 04/07/2022 09:50 PM
MLove:
Good job!! UPlifting!
Posted 04/07/2022 08:29 PM
Tracers645:
Thank you - I needed that.
Posted 04/07/2022 06:13 PM
Lori Levy:
Love the "bold, neon splashes."
Posted 04/07/2022 01:01 PM
Anastasia:
Well done, Norma! One of the best parts of living in California is enjoying the poppies!
Posted 04/07/2022 12:10 PM
Janet Leahy:
The form works well for this poem, makes me want to try writing an etheree.
Posted 04/07/2022 12:05 PM
Wilda Morris:
Excellent etheree!
Posted 04/07/2022 09:56 AM
Sharon Waller Knutson:
I love the colors, the sound, the shape and the message in this poem. Favorite images: Bold, neon splashes gild hills and meadows,
Posted 04/07/2022 09:27 AM
cork:
Annie Candelaria would have loved this etheree, and I want to try one of my own.
Posted 04/07/2022 09:12 AM
Michael:
How delightful Norma! Etherees are fun to write and as an added bonus: they are a neat disciplinary tool for learning/teaching syllable counts and economy of language. Nicely done!!
Posted 04/07/2022 09:10 AM
NQuinn:
I like it !! And the Etheree technique - a tempting challenge
Posted 04/07/2022 08:58 AM