Low in the grave He lay,
Jesus my Savior!
Waiting the coming day,
Jesus my Lord!

Vainly they watch His bed,
Jesus, my Savior!
Vainly they seal the dead,
Jesus my Lord!

Death cannot keep his prey,
Jesus, my Savior!
He tore the bars away,
Jesus my Lord!

Up from the grave He arose
With a mighty triumph o'er His foes.
He arose a Victor from the dark domain
And He lives forever with His saints to reign.
He arose! (He arose)
He arose! (He arose)
Hallelujah! Christ arose!



This poem is in the public domain.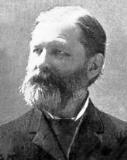 Robert Lowry (1826 – 1899) was born in Philadelphia to Irish immigrants. Intrigued by music even as a child, he played a variety of instruments and began writing songs while still in his teens. Despite his love for music, Robert studied theology and literature in college, establishing himself as a Baptist preacher and a college professor. He served churches in Pennsylvania and New York, earning a reputation as a gifted orator, even as he wrote more than 500 hymns; the one above, along with "Shall We Gather at the River" and "Nothing But the Blood of Jesus," are among his best known.
Anastasia:
One Easter when I was quite young, this hymn came up in the service, and I hadn't heard it before. Since I couldn't yet read, I heard it as "Christ, a rose", and figured it had something to do with the Christmas carol "Lo, How a Rose E'er Blooming". They're not actually related (other than both being about Jesus), but in my mind, they are still connected!
Posted 04/20/2022 10:48 PM
Wilda Morris:
My favorite Easter hymn! Thank you for posting it.
Posted 04/18/2022 10:05 AM
paradea:
Grew up with this Easter hymn! I love it. Happy Easter, all!!
Posted 04/17/2022 02:07 PM
Michael:
Totally awesome post, Jayne. What a staple (poem/hymn) for this Day of Days.
Posted 04/17/2022 09:20 AM
Darrell Arnold:
I grew up listening to this and the other Lowry hymns, and never bothered to look up who wrote them. God bless you, Jayne for posting this and for educating me. Those old hymns, sung by my favorite country artists, are still may favorite genre of all. They get a lot of air play here, regardless of what day of the week it is.
Posted 04/17/2022 08:53 AM
TheSilverOne:
What a multi-talented man! I looked this up and heard it sung. I had never heard it before. Quite a powerful poem/song.
Posted 04/17/2022 08:35 AM