for my mother, who so joyfully shared her kitchen with me
My mother's been waiting for me
to open the narrow drawer beside the stove
where, smiling with anticipation,
I reach for the dingy-pink-metal measuring spoons
that once were hers.
They clatter and clink,
till firmly cradled in my hands,
they radiate a warmth
that rushes through me.
As the passage of time disappears,
she and I silently begin to converse
and proceed with preparations
for a meal she'll never share.
She'd like me to use her crusty-black cast iron pan,
but I'm saving its heft
for the day those tiny spoons
will no longer be enough
to stir her up
.

This poem first appeared on EveryWritersResource.com.
Used here with permission.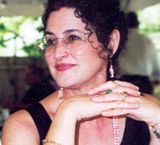 Joan Kantor lives with her husband in Collinsville, Connecticut. A college counselor and learning disabilities specialist for many years, Joan also has training in education and marriage and family therapy. Active in a number of poetry outreach efforts, she is a member of the International Academy for Poetry Therapy and collaborates with both visual artists and musicians in Stringing Words Together, an interactive program of poetry and violin music. Her most recent book is Filling in the Black: One Woman's Journey of Re-education (WovenWord Press).
Lori Levy:
I agree, great ending (and poem).
Posted 05/05/2022 02:20 PM
Anastasia:
I have a wooden mixing spoon that belonged to my mother. It's rather beat up around the edges, but it still worksand I feel much like that spoon sometimes!
Posted 05/05/2022 12:24 PM
Cathy's Sister:
Such a touching poem! Thankful we can always stir up our mothers presence!
Posted 05/05/2022 11:08 AM
KevinArnold:
Lovely poem.
Posted 05/05/2022 09:35 AM
Michael:
Remarkable, how small things bring forth such powerful memories . . . surely, this is one of the purposeful, "purposes" of poetry!!
Posted 05/05/2022 09:30 AM
Joan Luther:
Very sweet poem in honor of her mother and the upcoming celebration of Mothers Day
Posted 05/05/2022 08:56 AM
Larry Schug:
I agree with Angela-great last lines. Even everyday objects hold memories.
Posted 05/05/2022 08:20 AM
Angela:
Love that last line!
Posted 05/05/2022 07:21 AM