For Ma on her 88th Birthday

You are a butterfly, Ma,
beautiful, delicate,
flitting from flower to flower,
tasting the nectar in each one.

There are many flowers in your world,
not just the lavender
blossoming outside your door,
but whatever catches your fancy:
a colorful rock, a shell, a bird or
a decoration on a lawn. Could be
anything: a pretty hat, a necklace.
You are drawn with delight to
a cherry tomato in a bowl,
a book, a poem (mine!).

We, your family, are your flowers, Ma.
You alight on each one with a smile,
a laugh. With grace.
You taste the sweetness in each one.
Even when you clean,
you are a butterfly, landing lightly
on a speck of dust, a stain, a crumb.

You are a butterfly, Ma.
A flutter of beauty, color, joy
in our lives.


© by Lori Levy.
Used with the authorís permission.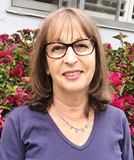 Lori Levyís poems have been published in numerous literary journals and anthologies in the U.S., the U.K., and Israel.† She and her family live in Los Angeles now, but Lori grew up in Vermont and raised her children partly in Israel.† She enjoys reading, writing, and spending time with family and friends, especially in nature.† Her five grandchildren keep her entertained, on her toes and, occasionally, inspire poems.
†
†
jamvan:
what a beautiful tribute :)
Posted 05/09/2022 05:27 AM
Lori Levy:
Thank you all for your comments!
Posted 05/09/2022 12:37 AM
Wilda Morris:
A lovely tribute!
Posted 05/08/2022 06:18 PM
Arlene Gay Levine:
Lori, your poem is a fine tribute to a mother who sounds like a true joy!
Posted 05/08/2022 04:59 PM
Anastasia:
What a lovely poem!
Posted 05/08/2022 03:52 PM
Michael:
That's what we're talkin' about Lory! Wonderful tribute . . . thank you.
Posted 05/08/2022 09:32 AM
Kindness:
Just loved this, thank you Lori. Janelouise
Posted 05/08/2022 07:42 AM
Joan Luther:
Lovely image comes to mind of each item that she touches turns into a flower (instead of the Midas touch, its the mothers touch). Happy Mothers Day!
Posted 05/08/2022 07:17 AM
Stephen Anderson:
A very nice recognition and characterization of your mother, Lori.
Posted 05/08/2022 07:09 AM
Sharon Waller Knutson:
I love this uplifting photographic poem that described not only Laurie's mother but my mother too. We were her flowers and she was graceful and loved beautiful things. But the line that described mother the most was this: Even when you clean, you are a butterfly, landing lightly on a speck of dust, a stain, a crumb.
Posted 05/08/2022 06:21 AM