Stars like stones underfoot.
Spangled light circling our heads.
A marimba remix of gravitational waves
ghosting our ear drums—

Blue Earth fades to a dot
as we tread the fenceless zoo:
here roars the lion, rumbles the bear,
scuttles the crab, wings the great horse.

Beneath the keeper's unseen hand
we pass, unaccosted by eyes glaring
of wolf and bull, dragon and serpent.
Big dog and little bask in our tracks.

Our heartbeats calibrate time,
the hornets of hurry far behind.
Arrows of hurt cannot reach us
nor the shrill winds of worry.

Through our home away from home
we go, equals to the gods, minds
wanting for nothing on the glittery way
but the unbound breath that creates us.


© by Darrell Petska.
Used with the author's permission.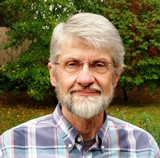 Darrell Petska is retired from a 30-year career as publication editor for the University of Wisconsin College of Engineering. He also spent time doing psychiatric casework and nursing home social work; through it all, he has written poetry. His work—which includes fiction as well as poetry—has been widely published. Father of five and grandfather of six, Darrell lives in Middleton, Wisconsin with his wife of more than 50 years. Learn more about him at conservancies.wordpress.com.
Jancan:
Vividly descriptive and expressive
Posted 05/10/2022 11:50 PM
Darrell P:
Thank you for your kind comments about my poem!
Posted 05/10/2022 09:26 PM
MLove:
Wow! I love this!
Posted 05/10/2022 03:19 PM
richard.cary@att.net:
A really good POEM got posted!!!
Posted 05/10/2022 12:59 PM
Anastasia:
A gorgeous tour of the night sky! Thank you, Darrell!
Posted 05/10/2022 12:48 PM
Janet Leahy:
I love how this poem travels the night sky, and thanks Jane for the helpful resource.
Posted 05/10/2022 11:53 AM
paradea:
Great poem...and I agree with Robert Manchester. Check out Darrell's website. Such a variety of wonderful poems and fiction!! Hope to see more of his poems on here!
Posted 05/10/2022 10:14 AM
Larry Schug:
I like the inter-action that occurs in this poem between the "primitives" who showed us animals in the sky and "gravitational waves" discovered by modern science. Also am thinking of this "keeper's unseen hand". There is much here to contemplate.
Posted 05/10/2022 07:59 AM
r1manchester:
Darrell... Welcome. Nice use of images and good turn of words make a good poem. To readers: I would suggest you checkout his site....some good stuff!!
Posted 05/10/2022 05:17 AM