My six-year-old daughter stares into the purpling
copper sky and names it dusk, a just-learned word
she is happy to declare, comparing it to evening
and afternoon. We talk of how the earth turns away
from the sun each night,
a motion so encompassing,
our bodies cannot know it.
I donąt tell her how the child
part of me still disbelieves it--that this globe
actually spins while we breathe, while my daughter
changes invisibly before my eyes,
her infant body submerged inside her
with her toddler waddle and her four-year-old skip,
each swallowed within the other
like the nesting dolls she keeps
on her new desk, each self
perfectly preserved, forsaken
for the one that must come after.


From Yaya's Cloth (Iris Press, 2007). 
First published in North American Review.
Used with the author's permission.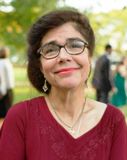 Andrea Potos is the author of five books of poetry, including the newly released We Lit the Lamps Ourselves (Salmon Poetry). A self-professed "book addict," her award-winning work often focuses on women and family. Her Greek grandparents and their spirit have been an abiding presence and inspiration throughout her life and poetry. Andrea lives in Madison, Wisconsin, with her husband and daughter.
Jo:
Just beautiful--I can so clearly see the nesting dolls. A perfect image of what happens.
Posted 07/01/2014 04:49 PM
vscholtz:
A beautiful picture of my belief - "every age is the best age"
Posted 07/01/2014 08:26 AM
njc:
Simply beautiful!
Posted 07/01/2014 08:24 AM
erinsnana:
I love the concept of the nesting dolls! Lovely poem...
Posted 07/01/2014 07:39 AM
Gilbert Allen:
A graceful and emotionally resonant lyric poem.
Posted 07/01/2014 06:55 AM
fer:
What a great poem for the 40th birthday of my firstborn. Thank you, Andrea.
Posted 07/01/2014 06:41 AM
mimi:
poignant, lovely and o so true poem, thanks Andrea!
Posted 07/01/2014 06:23 AM
rksanders@charter.net:
This touches me deeply. Thank you, Andrea.
Posted 07/01/2014 05:54 AM
Ross Kightly:
I'm not a mother [Guess why...] but with 5 offspring, all grown up and scattered near and far across the Globe I still feel the poignancy of this poem acutely! Beautifully done - 'Her toddler waddle and her four-year-old skip' - so precisely what I remember!
Posted 07/01/2014 03:14 AM