My fatherís farm is an apple blossomer.
He keeps his hills in dandelion carpet
and weaves a lane of lilacs between the rose
and the jack-in-the-pulpits.
His sleek cows ripple in the pastures.
The dog and purple iris
keep watch at the gardenís end.

His farm is rolling thunder,
a lightning bolt on the horizon.
His crops suck rain from the sky
and swallow the smoldering sun.
His fields are oceans of heat,
where waves of gold
beat the burning shore.

A red fox
pauses under the birch trees,
a shadow is in the riverís bend.
When the hawk circles the land,
my fatherís grainfields whirl beneath it.
Owls gather together to sing in his woods,
and the deer run his golden meadow.

My fatherís farm is an icicle,
a hillside of white powder.
He parts the snowy sea,
and smooths away the valleys.
He cultivates his rows of starlight
and drags the crescent moon
through dark unfurrowed fields.


From Straight Out of View (Boston: Beacon Press, 1995).
Used here with permission.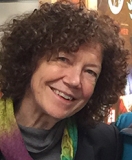 Joyce Sutphen is the author of multiple award-winning books of poetry and was co-editor of To Sing Along the Way, an anthology of Minnesota women poets. A professor emerita of literature and creative writing at Gustavus Adolphus College in St. Peter, Minnesota, she has garnered numerous fellowships and residencies in the course of her poetry career. In 2011, she was named Minnesota's Poet Laureate, and held that esteemed position until 2021.The oldest of nine children, Joyce grew up on a farm near St. Joseph and currently lives in Chaska. She loves both prairie and city and says "a perfect afternoon for me would be a long walk around the big marsh behind my house, or a ramble through Holland Park in London." A fan of Shakespeare, Joyce often uses her commute time to memorize poems by favorite poets. Learn more about her at www.joycesutphen.com.

Adriana:
The last three lines of verses two and four are particularly lovely...
Posted 05/30/2022 02:43 PM
Anastasia:
A magical place, indeedbeautifully described!
Posted 05/29/2022 03:42 PM
Lori Levy:
This poem paints a beautiful picture.
Posted 05/29/2022 01:28 PM
Sharon Waller Knutson:
Joyce Sutphen is one of my favorite female poets. She is the queen of metaphor and the Goddess of farms.I love all of her imagery. I can see, taste, touch and hear this poem. She is my mentor, my teacher, my idol.
Posted 05/29/2022 10:08 AM
Larry Schug:
When I want to name drop, I drop Joyce's name. One of my favorite poets, she writes of the place I know intimately. She is my friend. This poem is writing I seek to emulate. Her father is a cosmic farmer and the finest thing he ever raised was such a daughter, not to mention "rows of starlight".
Posted 05/29/2022 08:01 AM