The Hays place, where my father farmed
and raised a generation, is no more.
Signposts now spell Mallard Point.
Paved roads crisscross green acres.
New houses sprout on scattered lots.

That tree line borders wetlands,
where the slim Baboosic winds, pauses
at beaver dams, and seasonally creates
its own little islands. Birches that stood
wrist thick then, tower full bodied,
sullen as a horse standing in the rain.

Here is where the farmhouse stood,
long since bulldozed. That pile of rocks
was its foundation. And there the peg-
beamed barn. One day firemen came,
torched it, and burned it to the ground.

On this bare untended lot my mother's
roses struggle to preserve her mark.
Tomorrow the backhoe will roar, blow
blue smoke and erase her memory.

There where the silos stood, we rambled
on a grassy slope, read comics
and smoked corn silk cigarettes
deftly rolled in catalog paper.

And behind that cedar house
stone walls enclosed a brick lined
well, capped with moss green planks.
Don't you remember?
You picked wild raspberries there.

From Scattershot: A Collection of Unrelated Poems. (Mina-Helwig, 2009).
This poem won first place in a 2008 poetry competition sponsored by the Merrimack, New Hampshire Public Library.
Used here with the author's permission.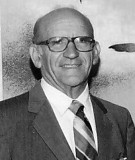 Edward Hujsak (1925 - 2018) was born in New Hampshire to a Polish farming family. A chemical engineering graduate of the University of New Hampshire, Ed worked on propulsion systems at General Dynamics during development of the Atlas and Centaur rockets. He was propulsion engineer on John Glenn's famous orbital flight and served as chief of preliminary design at General Dynamics Astronautics Division for ten years, accumulating more than a dozen patents in the aerospace field. In addition to his numerous engineering achievements, Ed was a writer, artist, sculptor, and builder of furniture and musical instruments. In his spare time, Ed made more than 2000 wooden birds, dogs, and race cars for the San Diego Fine Woodworkers Association, which distributes them to sick and needy children.
There are no comments for this poem yet.