Ordinary as
plain as
simple as
Quaker as
nothing to set them apart.
Mother used them ironing
as her mother before
to press hems
hard creases
onto pants.
She cut paper bags
into strips and rolled my
hair into ringlets.
For headaches she dipped
brown paper in vinegar,
wore it like
a ribbon around her forehead.
She wrapped school books
in brown bags,
baked turkeys gold
and gleaming, moist
and high on the platter.
We baked
apple pies
thick with juice
and bubbling steam
in a brown paper bag,
lined cake pans,
jotted down recipes,
and finally carried
our things as the softest,
most reasonable
always seasonable
suitcase.

From Tea and Other Assorted Poems (Main Street Rag 2010).
Used here with permission.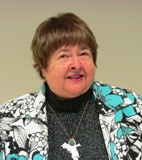 Ruth Moose was on the Creative Writing faculty at the University of North Carolina-Chapel Hill for 15 years. Author of novels, short story collections, and poetry collections, her work has appeared in publications all over the world. Ruth, who lives in Albemarle, North Carolina, was awarded a MacDowell Fellowship and, in 2009, received the prestigious Chapman Fellowship for Teaching. Her debut novel, Doing it at the Dixie Dew, was awarded a $10,000 Malice Domestic Prize. Ruth's most recent novel is The Goings on at Glen Arbor (St. Andrews University Press). Read a wonderful interview with her here.

Joan Luther:
These ideas could fill a YouTube channel or better yet: our hearts with memories and our senses with baked goods! Wonderful words!!
Posted 07/12/2022 10:42 AM
paradea:
Love it!!!
Posted 07/12/2022 10:28 AM
Michael:
Enjoy the history provided in the link, too. Goes to show that "ANYTHING" can be the subject of an excellent poem. Thank you Ruth & Jayne.
Posted 07/12/2022 09:27 AM
Wilda Morris:
Interesting uses for those brown paper bags. I use them for wrapping books to mail. I do remember using them as book cover. I may try some of the other uses!
Posted 07/12/2022 08:41 AM
Gilbert Allen:
Yes, I remember making those book covers. A fine poem.
Posted 07/12/2022 08:22 AM
Lori Levy:
Love all the uses for paper bags mentioned in this poem.
Posted 07/12/2022 07:57 AM
mail@schoolbusmart.com:
Wow, who would a thought (or remembered)! What a terrific invention. Where can I buy them? Great piece. You really bagged it. Randy Mazie
Posted 07/12/2022 07:32 AM
bobbi43sml@aol.com:
oh, Ruth ... Your poem was like opening a dear photo album from childhood. The memories just kept coming....... a WHOLE BAG FULL Thank you
Posted 07/12/2022 06:12 AM