I can hardly wait to taste
First fruits,
Though many are to come later:
Early Girls, voluptuous, blushing,
Great for BLTs.
Heirloom Beefsteaks,
Hearty enough to grill!
Romas, sturdy, eager to become
My motherís spaghetti sauce!
But first the Cherries ó
Such bright spots of flavor
In tonightís salad!
†
Dad!
Daughter?
What are these?
Our first tomatoes from the garden, dear.
For eating?
Of course.
†
Christina studied her plate.
†
Nope ó
But for playing marbles,
Perfect.


© by Robert Walton.
Used here with the authorís permission.

†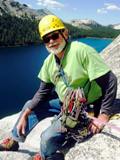 Robert Walton is a retired middle school teacher and a lifelong rock climber with many ascents in the Sierras and Pinnacles National Park. His publishing credits include works of science fiction, fantasy, and poetry. Robert's historical novel, Dawn Drums, won the Tony Hillerman Prize for best fiction in the 2014 New Mexico Book Awards. Most recently, his book, Joaquin's Gold, was published as a paperback and a Kindle eBook. It offers fictional adventures about the famous California bandit, Joaquin Murrieta. Learn more about Robert at http://chaosgatebook.wordpress.com/.
Wilda Morris:
Fun poem.
Posted 07/23/2022 12:33 PM
Lori Levy:
I agree. I like the marble idea.
Posted 07/21/2022 10:12 AM
joecot:
Fresh and home-grown.
Posted 07/21/2022 10:11 AM
cork:
I love the shift at the end.
Posted 07/21/2022 09:21 AM
Michael:
Really clever piece, Robert. This is poetry that delights; this is poetry folks can relate to. Well done!
Posted 07/21/2022 09:01 AM