O thou, my country, ope thine eyes
Toward what the Future holds for thee!
See the brave stripling rise
From lowliest hut and poverty,
From stair to stair;
Nor hardly fix his footsteps there,
Ere he another round
Doth upward bound;
Still, step by step, to higher stair
Forward he leaps,
Broader his vision sweeps,
Till he the loftiest summit gain,—
A people's hope to further and maintain.


This poem is in the public domain.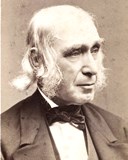 Amos Bronson Alcott (1799 - 1888) was an American philosopher, teacher, and writer. Father of Louisa May Alcott, he spent his life attempting to share his heartfelt, if unconventional, ideas about education. A leading disciple of the trandscendentalist movement, Bronson taught in numerous schools in the course of his career, and even established one of his own which, ultimately, failed. His progressive ideas inspired educational reformers in later generations, however, and many of his principles and practices are used in schools today.

There are no comments for this poem yet.