Summer yellows,
lilies, dandelions.
Summer greens,
cucumbers, peppers.

Summer reds,
tomatoes, bee balm.

Summer whites,
trousers, hats.

Summer blues,
delphiniums, jazz.

Summer,
lazily drifting
into September.


© by Robert Manchester.
Used with the authorís permission.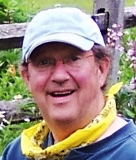 Robert Manchester (1943 - 2022) was born and raised in New Hampshire, surrounded by leafy trees, stone walls, and memories of Robert Frost, Jane Kenyon, Donald Hall, and Richard Eberhardt. He wrote and published poems for 50+ years, admitting that he much preferred writing to submitting, although his work appeared in print frequently. Robert especially enjoyed writing "edgy" poems, he said, about "the underbelly of life--the junk cars, tumbledown trailers, goat pens in the front yard, and the like." In addition to being a poet, he was a lifelong gardener and devoted volunteer at many charitable, educational, and public organizations.
paradea:
Rest in peace, Robert!
Posted 08/26/2022 12:40 PM
ghctenmile@earthlink.net:
Rest in peace, Robert. Your fellow YDP poets will miss you and your poems.
Posted 08/25/2022 06:03 PM
Anastasia:
A lovely poem, written by someone I wish I had known. Blessings to him, and comfort to all who love him.
Posted 08/25/2022 12:27 PM
KevinArnold:
Loved the quote about gardening in the obit, and love colors as a grounding theme for poems.
Posted 08/25/2022 12:07 PM
CamilleBalla:
Thank you, Jayne, for this intro as well as remembrance of Robert Manchesters life. I read it a few times; every word counts. It introduced me to bee balm, a nice visualthanks to Wikipedia. A very nice selection to read in late August as Summer is lazily drifting.
Posted 08/25/2022 12:04 PM
joecot:
Nice. Lazily drift onward, Robert...
Posted 08/25/2022 11:45 AM
Sharon Waller Knutson:
Love this whimsical picturesque poem. Love how he tossed in the line: Summer Whites, trousers and hats. I'll never forget a comment Robert made on my poem, "Stormy Sunday:" r1manchester: Ms. Alliteration! and with some whimsy. Very nice little poem, always enjoy her poems. Posted 06/28/2020 05:35 AM
Posted 08/25/2022 10:32 AM
Michael:
So economical, visual. Thank you for this remembrance of Mr. Manchester.
Posted 08/25/2022 09:34 AM
cork:
He captured summer with the poet's eye.
Posted 08/25/2022 09:00 AM
SuthunBelle:
Absolutely beautiful. RIP, Mr. Manchester.
Posted 08/25/2022 08:49 AM
Wilda Morris:
A cheerful (and colorful) poem. I'm sorry to hear of his passing.
Posted 08/25/2022 08:32 AM
Lori Levy:
I didnt know Robert. Sorry to hear he passed away. Beautiful summer colors.
Posted 08/25/2022 08:31 AM
Simontw7:
He himself, was obviously a colour of summer. May he R.I.P.
Posted 08/25/2022 05:17 AM