Be kind and tender to the Frog,
And do not call him names,
As "Slimy skin," or "Polly-wog,"
Or likewise "Ugly James,"
Or "Gap-a-grin," or "Toad-gone-wrong,"
Or "Bill Bandy-knees":
The Frog is justly sensitive
To epithets like these.

No animal will more repay
A treatment kind and fair;
At least so lonely people say
Who keep a frog (and, by the way,
They are extremely rare).


This poem is in the public domain.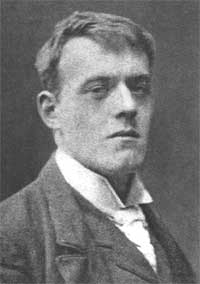 Hilaire Belloc (1870 - 1953) was born in France to a French attorney and an English feminist writer. The family moved to England while Hilaire was still a toddler. A friend of sci-fi writer H. G. Wells and playwright George Bernard Shaw, Hilaire was a devout Catholic and successful journalist who also wrote inspirational poetry, cautionary tales, nonfiction, and children's verse, authoring more than 150 books during his lifetime. Considered one of the brilliant thinkers of the 20th century, his essays and observations on history remain in great esteem even today. 
paradea:
Hahahahahahaha!! Love it!
Posted 09/05/2022 09:20 AM
Anastasia:
What a fun poem! Thank you, Jayne!
Posted 09/02/2022 12:36 AM
mail@schoolbusmart.com:
Love the FROG names, love the rhyme, love the fun! Randy Mazie
Posted 08/31/2022 11:48 AM
KevinArnold:
Belloc is fun. Those old rhymers!
Posted 08/31/2022 09:31 AM
cork:
What kind of kick do breaststroke swimmers use?
Posted 08/31/2022 09:27 AM
Darrell Arnold:
I love Belloc's clever poem. I miss the frogs. There are almost none here in the high desert of NW Arizona. When I was a youth, in Southern Colorado, Leopard Frogs, in huge numbers, lined the banks of ditches and ponds. It was a pleasure to see them, and even more fun to catch them. Catch and release, of course.
Posted 08/31/2022 08:53 AM
Larry Schug:
My yard is teeming with frogs and toads and, indeed, they do bring me pleasure at every encounter.
Posted 08/31/2022 08:07 AM