He gathered moonlight with his song,
brought the taste of the day
to his lipsó
each note an offering
to ancestors.
†
His hands danced along the keys.
The choreography of melody
told a story,
and we listened for clues.
Lush tunes with augmented chords,
he used the pedal with purpose
to let notes linger.
†
The confines of his day at the bank
were abandoned for music.
His commute home, now long forgotten.
His hurried lunch,
replaced by a languorous supper.
†
This was how my grandfather played the piano.
†

From The Sound of a Collective Pulse (Kelsay Books, 2021).
Used here with permission.
†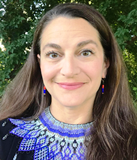 Cristina M. R. Norcross†is the author of nine poetry collections and the editor of the online poetry journal, Blue Heron Review. Her most recent collection is The Sound of a Collective Pulse (Kelsay Books, 2021). During the pandemic, Cristina taught herself how to knit scarves, and has made one for almost every member of her extended family. She is thankful that long walks by the lake, where she lives in† southeast Wisconsin, have replaced going to the gym. The natural world finds its way into much of Cristina's writing. Learn more about her at†www.cristinanorcross.com.
†
Wilda Morris:
The first line is so wonderful - it drew me right in and I could almost hear your grandfather playing the piano. Thank you for this!
Posted 09/17/2022 11:08 AM
Janet Ann Leahy:
Love how he "used the pedal with purpose," lovely poem. Thank you Cristina."
Posted 09/15/2022 04:45 PM
Cristina Norcross:
Thank you so much to Jayne Jaudon Ferrer for featuring my poem today on YDP, and I wanted to extend a special thank you to everyone for leaving such lovely, thoughtful comments. My Grandpa Bill thanks you, too!
Posted 09/14/2022 02:37 PM
CamilleBalla:
What a great tribute you have given to your grandfathers musical expression. You were so in tune by listening to his pedal with a purpose, the clues. What a wonderful way he balanced his day after work time at the bank.
Posted 09/14/2022 01:45 PM
Glen Sorestad:
Simply put, wonderful! It makes us al wish we could write such a poem for our grandfathers.
Posted 09/14/2022 01:43 PM
Lori Levy:
Beautiful portrayal of how your grandfather played the piano and how he left behind "the confines of the day" and "his commute home" when he played his music.
Posted 09/14/2022 01:41 PM
Sharon Waller Knutson:
I loved the title, the unique description especially "He gathered moonlight with his song,brought the taste of the day to his lipseach note an offering to ancestors" and especially the surprise ending: " This was how my grandfather played the piano.".
Posted 09/14/2022 11:26 AM
tiddles:
Love the idea of "gathering moonlight" with song. MZWindau
Posted 09/14/2022 11:21 AM
Jancan:
Lovely, moving, expressive tribute to Grandfather
Posted 09/14/2022 09:23 AM
Joan Luther:
What an amazing tribute to your grandfathers passion.
Posted 09/14/2022 08:56 AM
Larry Schug:
the initial stanza could stand alone. It is quite beautiful.
Posted 09/14/2022 08:18 AM
Angela Hoffman:
I can feel the peace that his music brought to himself and all who listened.
Posted 09/14/2022 07:49 AM
paula:
A lovely memory! Good to hear your voice.
Posted 09/14/2022 05:13 AM