(For Josie)
It all begins to fade
in the land of forget-me-not years.
One moment I am dropping a slice of lemon into my tea —
the next moment
the back of my bed raises
with the click of a magic button.

Crosswords are my saving grace.
All of the clues —
a familiar comfort.
I wonder who keeps filling them in?
She should be more considerate and use a pencil.

There is a woman who comes and points
to pictures on my dresser.
Sometimes I am good at the guessing game —
sometimes not.
She is kind though and brings me a new nightgown
with each visit.

In times of joyful suspension,
the room is filled
with people I have not seen in years.
Gertrude's fur wrap was always too showy,
but it looks good on her now.
Bill is busy serving cocktails,
while they set up another Canasta game.
It is a party of laughter and noise.
You should come —
before it all disappears.


© 2010 by Cristina M. R. Norcross
Used with the author's permission.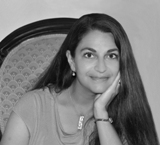 Cristina M. R. Norcross lives in Wisconsin with her husband, their two sons, and a cat who loves to sleep on a warm, humming computer. Cristina is the founding editor of the online poetry journal, Blue Heron Review (www.blueheronreview.com) and the author of seven poetry collections. When not writing or editing, she travels to distant lands and designs jewelry from found treasures. Learn more about Cristina at  www.cristinanorcross.com.
There are no comments for this poem yet.