I was raised by the wind
in the trees
The crashing of the
waves on the sun-warmed
rocks
The bustle of the forest

I was raised by †
feelings of flying through the
waves
The wooshing of the water
parting at the hull
The mist by our side

I was raised by chipmunk
calls, their scurrying around
the spruce
A deafening buzz of cicada
A crunching of leaves
under calloused, worn,
feet

I was raised by the bumpy
feel of a gravel path on freshly
pumped up tires
The dry earthy smell turning
to the ocean's aroma

I was raised by
the thunk
of ping pong balls getting
hammered
over the net, battered back and forth
The echoes of victorious
shouting voices

I was raised by
a lethargic gaze out at the setting
sun, the glittering ocean causing
a hard squint
A tug of a line, fish on the end
The bending rod
suddenly wide awake

I was raised by
the shine
of mackerel scales
The elegant sway in the
tail of a striped bass
The orange hue
of a cod, yearning to
return to the depths

I was raised by
the constant resistance
of the ocean
The trap line never-ending
The loud hum of the
engine, along with
a trickle of
the cooling water

I was raised by
the pungent smell
of bait
Small cuts from lobster
spines
The constant
battle to stay out
of its claws

I was raised by Summer


© by Owen Dawson.
Used with the authorís permission.
†
†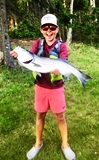 Owen Dawson lives in a small town in rural Maine. He wrote this poem for his sophomore English class. Owen spends his free time camping, fishing, and enjoying nature. He spends summers on the coast of Maine, where he pulls lobster traps by hand, works on an oyster farm, and fishes the surrounding coves in a wooden skiff.
†
Anastasia:
The two meanings of "raised" give so much more to this poem, and the sensory images are wonderful!
Posted 09/20/2022 10:26 PM
DVincentiPoet:
This is amazing work from a HS student. The fish stanza is especially excellent!
Posted 09/19/2022 08:48 PM
Lori Levy:
Love all the sensory details. I feel like I'm there, experiencing it all. Great job!
Posted 09/19/2022 03:54 PM
CamilleBalla:
Amazing poem written by a 15-year-old. Everyones comments raise it to yet another level. Thank you, Larry, for pointing that out.
Posted 09/19/2022 12:56 PM
KinVT:
Wow, what a fantastic poem.
Posted 09/19/2022 10:45 AM
peninsulapoet:
What a wonderful poem. Enticing title.
Posted 09/19/2022 10:31 AM
mail@schoolbusmart.com:
I just have to tell you again. I liked the poem so much that I printed it out and have it on the wall of my favorite poems. Randy
Posted 09/19/2022 10:04 AM
Angela Hoffman:
Such a beautiful poem. Made me wonder, what raised me?
Posted 09/19/2022 09:31 AM
cork:
A sensory treasure!
Posted 09/19/2022 09:26 AM
paradea:
Good one!!!
Posted 09/19/2022 09:21 AM
Wilda Morris:
A beautiful poem. I heard, I saw, I smelled. I touched the fish scales and tasted the fish. I felt this poem deeply. So well-written, appealing to all the senses!
Posted 09/19/2022 08:37 AM
Larry Schug:
I see a sort of double entendre in the word "raised": not only meaning "brought up" but also "elevated in spirit".
Posted 09/19/2022 08:35 AM
KevinArnold:
Held together by the glue of repetition. Yes.
Posted 09/19/2022 08:02 AM
Joan Luther:
Impressive composition! He leads us through the summer with a taste of his activities. Well done!!
Posted 09/19/2022 07:04 AM
MatthewMiller:
Love the details throughout this one!
Posted 09/19/2022 06:03 AM
mail@schoolbusmart.com:
Wow. Bravo. Bravo.The poem and poet took my breath away. I danced with its rthyms, was dazzled by its colors, breathed in its scents, and swelled with emotions by its insistent calling of I was raised by What a powerful, beautiful, and compelling work of word art. Randy Mazie
Posted 09/19/2022 05:37 AM