"Even angels have a hierarchy."
                                ~Mary Oliver

Gabe hangs his shirt on the nail
that holds up his mailbox. It's a
gray day and he hopes it will dry
before he has to go to work
but he won't use his quarters
to pay for the dryer because he's
trying to save three dollars to buy
a yo-yo for the kid who lives in
2B. He thinks the boy deserves it
even though he talks nasty but
more than makes up for it by
sharing his Red-Hot Cheetos with
the sick girl in 3C. The building manager,
Mrs. Martinez, was Gabe's mentor.
She held rent checks and he believes
was responsible for the mysterious
appearance of food for hungry
families and other local miracles.
He knows her death has left a hole
in the angel hierarchy and prays
if he gets the promotion, it comes
with a stipend.


From Snapshots (Kelsay Books, 2022).
This poem first appeared in The MacGuffin.
Used here with permission.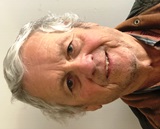 Ronald Lauderbach says he writes poetry to celebrate life and because he likes to play with language. A retired high school English and journalism teacher (he also coached Pony League, for 12- and 13-year-olds), he tries to follow the advice he gave his students: "If you write poetry that moves you, it will move others." Reviews say his new collection, Snapshots, does just that. Ron lives in San Diego, California.
Wilda Morris:
Moving - and interesting.
Posted 11/30/2022 11:50 AM
Jancan:
Such a moving poem about people who care
Posted 11/30/2022 09:23 AM
PmReid:
I was moved; brought tear to my eyes.
Posted 11/29/2022 05:03 PM
Lori Levy:
Moving and inspiring.
Posted 11/29/2022 11:51 AM
paradea:
This is a poem that even people who hate poetry will be touched by!! How beautiful!
Posted 11/29/2022 11:24 AM
cscoville:
What a beautiful, inspirational poem. Simple acts of kindness and generosity can change lives.
Posted 11/29/2022 10:51 AM
Leslie Hodge:
Wonderful poem! Reminds us there are unlikely angels everywhere.
Posted 11/29/2022 10:18 AM
peggy.turnbull:
Lovely poem! I enjoyed meeting these assorted characters and the small ways that they care for each other.
Posted 11/29/2022 09:36 AM
Sharon Waller Knutson:
This is a very good example of a narrative poem that explores the human condition. All the characters are flawed, some more than others. The entire poem describes a human being who is trying to fix the flawed.
Posted 11/29/2022 05:52 AM
paula:
Deeply human.
Posted 11/29/2022 05:17 AM