Bless the dance
Of last year's leaves.
They run on tiptoes
Across the winter ground.
Pushed by cold winds
They tumble
Cartwheel and leap
Into the new day. They are
Undaunted.
Their green life gone
And with it all they clung to.
Yet, they dance. Dry and brown,
They become light as paper
On which to write
A new song.


From The Librarian and Other Poems (Main Street Rag, 2009, 2010).
Used here with permission.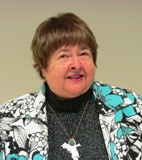 Ruth Moose was on the Creative Writing faculty at the University of North Carolina-Chapel Hill for 15 years. Author of novels, short story collections, and poetry collections, her work has appeared in publications all over the world. Ruth, who lives in Albemarle, North Carolina, was awarded a MacDowell Fellowship and, in 2009, received the prestigious Chapman Fellowship for Teaching. Her debut novel, Doing it at the Dixie Dew, was awarded a $10,000 Malice Domestic Prize. Ruth's most recent novel is The Goings on at Glen Arbor (St. Andrews University Press). Read a wonderful interview with her here.

Anastasia:
So much kinetic energy, well expressed!
Posted 12/28/2022 09:24 PM
Wilda Morris:
What a beautiful fall poem!
Posted 12/24/2022 09:10 AM
Lori Levy:
Love these dancing leaves.
Posted 12/21/2022 03:55 PM
Joan Luther:
To write a new song offers the flow into the next season. Lovely!
Posted 12/21/2022 11:29 AM
Gilbert Allen:
An elegant lyric poem.
Posted 12/21/2022 09:44 AM
paradea:
I love this poem...the best in a while, Jayne!!
Posted 12/21/2022 09:43 AM
Pat Brisson:
Lovely and inspiring - their green life gone. .. yet they dance! Thank you, ruth.
Posted 12/21/2022 09:00 AM
Jccjccac@aol.com:
I love that imagery- joy in a new adventure off the tree
Posted 12/21/2022 08:56 AM
Larry Schug:
I especially delight in a single brown fallen leaf gets a mind of its own and takes off on its own adventure. Wonderful poem, Ruth.
Posted 12/21/2022 07:31 AM
CamilleBalla:
Beautiful poem! Ill see dry and brown leaves in a new way and wont regret the ones that missed the rake. Thank you!
Posted 12/21/2022 07:30 AM
PmReid:
Ms. Moose is a delightful writer and this poem illustrates her varied talents. So good to see a NC author today!
Posted 12/21/2022 06:57 AM