From my camping chair
I watch Boy Bird call Girl Bird
With "Your-it! Your-it!"
†
Underneath, girls chase
Boys who pretend not to care
With "You're it! You're it!"
†
From his camping chair
Hubby winks and blows a kiss.
Oh, you're it! You're it!


© by Margaret Love.
Used with the authorís permission.
†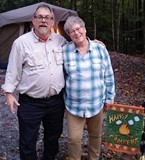 Margo Love worked for 25 years managing projects and project managers in information technology for the life insurance and utility industries. Now retired, Margo and her husband live in Travelers Rest, South Carolina, where she enjoys sitting on her front porch with a cup of coffee, praising God for the life she has been given and, occasionally, breaking out in a poem.
†
†
Anastasia:
Fun and sweet! Thank you, Margo!
Posted 02/20/2023 10:13 PM
KinVT:
Whoops, sorry!! Margo not Margaret! Geesh, my enthusiasm blinded my accuracy on that one :)
Posted 02/13/2023 11:15 AM
KinVT:
Oh, so sweet! - thank you Margaret Love , so appropriately named :) What the entire world needs right now is this parade of love poems thank you Jayne!!
Posted 02/13/2023 11:13 AM
cork:
Nice Nice!
Posted 02/12/2023 06:05 PM
CynthiaB:
How sweet! Thank you, Margo. I feel the same way about my husband.
Posted 02/12/2023 02:55 PM
Lori Levy:
Says a lot in a few short lines!
Posted 02/12/2023 12:58 PM
paradea:
I swear I heard a bird outside in my yard saying "Pretty, pretty, pretty" when I was out there! Love this poem!!
Posted 02/12/2023 11:14 AM
Wilda Morris:
As another bird says, "Sweet!"
Posted 02/12/2023 08:02 AM
Joan Luther:
Ahhhh, love chirps in many ways
Posted 02/12/2023 07:41 AM