We leave the sidewalk
for a gravel trail,
 
our footsteps slowing
into a benevolent song,
 
find our way to a creek,
where barely a dribble flows.
 
We disconnect from
the daffodil's cheer
 
for the early spring woods
of a chilly day.
 
We find May apples,
trout lilies, and trilliums
 
among fallow trees.
By ignoring the obvious
 
we find the glorious
in an ordinary neighborhood.


© by Margaret Coombs.
Used with the author's permission.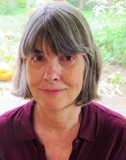 Margaret Coombs is a retired academic librarian who lives in Manitowoc, Wisconsin. She recently changed her writing name to her birth name as a way to connect with the literary dreams she had as a child. Margaret's work has appeared in several publications and her first chapbook, The Joy of Their Holiness, was published in 2020 under the name Peggy Turnbull. Learn about Margaret at https://margaretcoombs.com/.
PamLewis:
Hi Peggy- I love how this has such beautiful details and then moves gracefully to a wider truth
Posted 03/25/2023 05:59 PM
Jo:
I love this glorious poem.
Posted 03/24/2023 11:36 PM
Lori Levy:
Love the glorious found in the ordinary.
Posted 03/24/2023 01:26 PM
peninsulapoet:
Find the glorious!!!!
Posted 03/24/2023 11:02 AM
michael escoubas:
Somethings are like this poem . . . that instantly and in themselves, they bring happiness. Great way to start out the day; any day for that matter.
Posted 03/24/2023 09:58 AM
Angela Hoffman:
By ignoring the obvious we find the glorious!!!!
Posted 03/24/2023 08:48 AM
Anastasia:
A lovely day out!
Posted 03/24/2023 08:24 AM
Larry Schug:
"We disconnect from the daffodils cheer"-very original, a lovely mystery.
Posted 03/24/2023 07:57 AM
Sharon Waller Knutson:
I love this beautiful visual poem. I feel like I am hiking right along with Margaret/Peggy. Favorite line: By ignoring the obvious we find the glorious in an ordinary neighborhood.
Posted 03/24/2023 06:05 AM