I watched him slowly growing old and frail
But still he passed before I was prepared—
A dreadful fight in which few men prevail
Approached with peace where others have despaired.

I often try in vain to recollect
The many times he spoke my name with pride,
Occasionally pausing to reflect
On memories less stark than when he died.

Now when I stare into a looking glass,
I see his features blended in my own
And shed a tear despite the years that pass—
A kinder, wiser man I've never known.

I only hope when someone measures me,
I'm half the man he showed me how to be.


This poem first appeared in Vita Brevis Press (May 2019).
Used here with permission.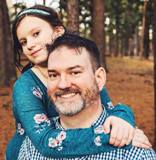 Randal A. Burd, Jr. is editor of Sparks of Calliope, an online poetry magazine. He received his M.Ed. from the University of Missouri and spends most of his days and evenings providing education to disadvantaged youth and adults. His latest poetry collection is Memoirs of a Witness Tree (Kelsay Books, 2020). Learn more about him at http://theedgeofmemory.com or find him on Twitter @colonelrandal.
>
Wilda Morris:
An especially wonderful poem for Father's Day!
Posted 06/20/2023 05:38 PM
Anastasia:
Moving and wonderful. Thank you for sharing these memories and this moment.
Posted 06/14/2023 08:16 AM
paula:
Just lovely. What we owe our parents/
Posted 06/14/2023 04:51 AM
Lori Levy:
Beautiful tribute.
Posted 06/13/2023 02:39 PM
paradea:
How heartfelt and beautiful!!
Posted 06/13/2023 10:47 AM
Judy:
Love your poem, Randal!
Posted 06/13/2023 10:38 AM
tiddles:
A wonderful tribute poem. Thank you, Randal. M.Z.Windau
Posted 06/13/2023 09:33 AM
Angela Hoffman:
A beautiful poem.
Posted 06/13/2023 09:04 AM
Darrell Arnold:
I, too, see my father before me, when I'm gazing into a mirror, and I often wonder if I lived up to his expectations. Thanks, Randal, for an excellent poem on many levels.
Posted 06/13/2023 08:14 AM
Larry Schug:
If I had one wish, it would be to have my father back for even just one hour, so I could ask him everything I'd never asked when he was here. Unlike romanticized fathers, he showed me what not to be, yet he was my hero. I love this poem.
Posted 06/13/2023 07:57 AM
Pat Brisson:
Such a loving tribute! Thank you for sharing this with us, Randal.
Posted 06/13/2023 07:51 AM
JanetRuth:
a reminder for each of us to be the kind of reflection our children hope to see someday! Beautiful!
Posted 06/13/2023 06:26 AM
M-A:
a beautiful poem in praise of a very lucky man - M-A
Posted 06/13/2023 05:21 AM