We look through Auto Shopper magazines
stained with coffee, strewn across
the dashboard with empty Marlboro packs,
Hostess fruit pie wrappers, a worn work glove.
Adjust the wing, flip open the roof hatch
with the hope more air will come in.
Roger, the driver, paused between runs
to stop and check on some money
owed to him by a friend, me and Hank wait
in the lot, a South Jersey orchard's packing shed.
August sunshine always cooks our bodies
working outside. On the road together
we deliver, take down, and set up from
the early morning hours, only half done now,
too much work is waiting for us at the shore.
Hank is getting frustrated, trying to find
some music he can tolerate on the
broken down radio of the Mercedes Benz truck.
He keeps getting old time hymns, organ music,
ranting preachers or black gospel music stations.
It is to be expected, since it is a Sunday morning.
"You boys like peaches?" He climbs in;
nodding, we thank him, and on that day,
I am blessed and cursed simultaneously with
the biggest, roundest, most perfect peach
that I've ever seen in my life. Remorsefully I rip
its skin, the flesh opens, juice runs down to my elbow.
I swallow the most life changing fruit since the apple
bitten by Adam and Eve in the Garden of Eden.
And since that day, almost twenty five years ago,
I cannot find a peach to compare, to rival, to surpass
the exquisite fruit given to me on that Sunday morning.
And like an old man who once had a beautiful woman and
lost her, I can't stop comparing all fruit to that one.
Copyright 2010 by Larry Lawrence.
Used with the author's permission.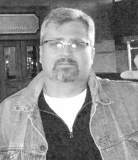 Larry Lawrence was born and raised in southern New Jersey, then left his hometown to attend Rutgers University and study playwriting at Mason Gross School of the Arts. A teacher in the Gifted & Talented program at several elementary schools, he has read and written poetry for many years. A committed writer, avid father and devoted sports fan, Larry continues to live in New Jersey but travels frequently to locations in the Southeastern U.S. Learn more about him here, or join him on Twitter @TheAmericanPoet.
tannerlynne:
I once had corn on the cob beside a lake in Upstate NY when I was about twewlve yrs old...and i have never! found that wonder again....Thanks for capturing the feeling in this poem Ciao,LST
Posted 08/22/2010 04:06 PM
dotief@comcast.net:
Love this poem! I keep looking for sweet blackberries. The store-bought kind is too sour, and I haven't the time to go looking through green pastures to find the best ones! Bravo, Larry!
Posted 08/22/2010 11:30 AM
gingtomlin:
This touched a chord with me since I grew up in rural Mississippi and had many sensory experiences which have no equal today. Aahhh, but at least we have memories and poems like yours to evoke them.
Posted 08/22/2010 10:15 AM
Buckner14:
From the moment that peach enters the season, my senses grew alive. Terrific description!
Posted 08/22/2010 09:29 AM