The white and black squares
promise order
in the morning mess
of mulling over

the latest political morass,
what's on sale at Kohl's,
the book review.

Each letter, shared,
which lifts away
some sheen of loneliness I
can't quite explain.

This week, "arsenic" and "forsythia"
are joined by their i's
like long-estranged cousins.

And when they ask
for the French equivalent of sky,
I'm back on a wooden chair

in Madame Baumlin's
eighth- grade class, passing
a note to David, having

no idea, as my hand grazes his,
that he will drown sailing
that next summer.

I like doing the crossword
with my husband —
Source of support,
three letters.

I'm the one who guesses it,
glad he doesn't think
of " bra" in this way.

The puzzle rests
on the counter all week.

I like coming back,
looking at the same clue
I found insolvable
the day before, my mind

often a mystery to me,
turning corners when I sleep
or am upstairs folding clothes.

They get added to pounds.
Yesterday I thought
it had to do with money or meat;

now I can see the chain-link fence
at the local animal shelter.
Of course. "Strays".

From Second Skin (Wind Publications, forthcoming in November 2010)
Used with the author's permission.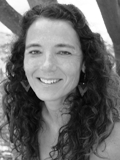 Sally Bliumis-Dunn is an avid but, in her words, "very mediocre" puzzler who teaches Modern Poetry at Manhattanville College. Her poems have been published in the Paris Review, Poetry London, Prairie Schooner, and the New York Times, among other distinguished journals. In 2002, she was a finalist for the Pablo Neruda Prize. Sally lives in Armonk, New York, with her husband, John, and their four children. Learn more about her here.
Buckner14:
Absolutely delightful, and so clever! I'm sharing this not only with poets, but with crossword devotees! Sally :Buckner
Posted 08/27/2010 02:55 PM