You make me do things
I was taught not to do,
things I shouldn't ought to do
because I know better.
I've been taught better.
The best teachers pounded
form into my repertoire.
The very best have counseled:
in poems— let love go dead.
(Especially if it's yours.)
But what's a girl to do?
A gone-stupid smile
settles on her heart. Butterflies
collide, and she starts dripping
rainbow, stars, and moon.
Oh, your eyes are liquid pools of fuel
for this fool—the whole world's
gone to honey. When we met,
this poet hit the sun head on
and had no idea what to do.
So my darling, critics be damned!
I tortured a poem just for you.
© by Kay Day.
Used with the author's permission.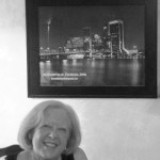 Kay Day is one of those writers who does it all--poetry, memoir, nonfiction, journalism, technical...you name it, she does it--and does it well. Currently the host of a daily syndicated blog called the  "Day on the Day," which gives her the opportunity to appear regularly on The Cindy Graves Show on WBOB-AM 600, and on a number of other talk shows, she is also a columnist for the online version of The Writer Magazine. Kay is the author of an award-winning poetry collection and a memoir. A former South Carolinian now living in Jacksonville, Florida, Kay's work has appeared in numerous magazines and anthologies and she is a frequent guest at schools and book events.
peninsulapoet:
Delightful!
Posted 07/09/2014 11:54 AM
Jo:
Fantastic.
Posted 07/09/2014 10:43 AM
Glen Sorestad:
Acquitted with great wit and verve!
Posted 07/09/2014 09:53 AM
dotief@comcast.net:
Love it!
Posted 07/09/2014 08:55 AM
Ross Kightly:
The torturing of poems and the doing of not what we were told to do! And all in the name of LURVE!! What's not to like? Fortunately, poem-torturing is not an indictable offence! When butterflies collide on the other side of the world, the heart shudders in recognition on this! Keep up the hideous brutality!!
Posted 07/09/2014 05:08 AM
Mary Lou Taylor:
Wow! This hit me hard. Great feelings come from the great words.
Posted 07/08/2014 11:28 PM