Only a few red and yellow 
patches of leaves --
faintest edge 

of cold coming through;
summer wearing out 

like a pair of old jeans ? 
hiss of school bus braking.

You're both in college now, 
and school is long ago for me.

But isn't there always 
the circling back ?

more than remembering, 
I can almost see

the flat- ended yellow pencils 
ready to be sharpened,

stiff loops of laces 
on brand- new shoes, 

faces of classmates, 
changed, slightly unfamiliar 

after long, separate summers.

I remember feeling 
time fall back 
from the soft green blur
of summer into a circle 

on the black- rimmed clock 
with its jumpy red minute hand

on the wall above 
our classroom door.


From Second Skin (Wind Publications, November 2010)
Used with the author's permission.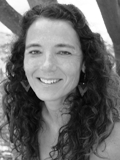 Sally Bliumis-Dunn teaches Modern Poetry at Manhattanville College. Her poems have been published in the Paris Review, Poetry London, Prairie Schooner, and the New York Times, among other distinguished journals. In 2002, she was a finalist for the Pablo Neruda Prize. Sally lives in Armonk, New York, with her husband, John, and their four children. Learn more about her here.
anncaron:
Thank you, Sally - I think I had the same clock in the classroom. Beautiful. Ann Caron
Posted 10/02/2010 09:35 AM
Julianne Carlile:
This poem really brings back memories for me. Thank you!
Posted 09/30/2010 07:13 AM
Nabby Dog:
This is a vivid poem with wonderful specific details. It evokes a powerful time in the past but never slips into sentimentality.
Posted 09/30/2010 05:37 AM