First you notice the mellow afternoon,
with the oak glowing bronze
by your front door and one last bee,
drunk on October and fallen apples,
weaving down your window screen.
Then you might try
frying an onion
and lots of garlic in some olive oil.
While that fragrance is luring
all manner of creatures to your door,
you could puree two cans
of Caribbean-style black beans
with about one half can of chicken broth,
then mix it all together,
along with the rest of the can of broth
to heat through. Add a dollop
of sour cream in each bowl
and serve with red wine, some olives,
a green salad with the hint of oil and vinegar,
and a fresh, crusty French baguette
that you must tear apart in the best spirit
of breaking bread—with an old lover,
or a friend who knew you when.
Alone is good, too, with Bach
and a book of poetry.
Then indulge, enjoy, surrender
to this moment that is all there is:
to the bee, the oak, the falling night,
to this prelude of smoky light,
golden against evening shadows.

This poem won first place in the "Food" category of The Triad Contest, sponsored by the Wisconsin Fellowship of Poets, and first appeared in Verse Wisconsin (Spring Issue #102).
Used here with the author's permission.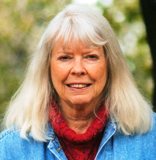 Sharon Auberle is the author of two books, Saturday Nights at the Crystal Ball: a Memoir in Poetry (currently out of print), and Crow Ink, a collection of her poetry and photographs. She is venturing into the world of recorded word, via a CD, Something After Burning, with music backup provided by some of Door County, Wisconsin's finest musicians. The poems are taken from her book by the same name, to be released in the fall. The CD is available, for $12 plus $3.50 S. & H., from the author at P.O. Box 701, Sister Bay, Wisconsin 54234. When not doing any of the above, Sharon tramps the woods near her home in pursuit of the chanterelle mushroom, which she says is having a bumper year. Learn more about Sharon here.
Buckner14:
Beautiful...and such a lovely tribute to a peaceful spirit!
Posted 10/10/2010 07:12 PM
jeanie:
i am drunk on october too, like the bee
Posted 10/10/2010 06:43 PM
Lucha:
My dear Mushroom Queen.. oh how I love this poem... it is delicious!!
Posted 10/10/2010 04:42 PM
wendy morton:
Delicious poem. And a recipe for peace.
Posted 10/10/2010 01:16 PM