Palms touching, hinged at the wrists;
fingers held flat, then sprung wide — my son
makes a puppet of the Pythagorean Theorem.
Mouth agape, it surfaces from rivers past.
The hypotenuse is a fierce long-sided beast.
I groan laughter.

All afternoon we sit at right angles to a table crosscut
by October sun, trying to resurrect the ancient Greek.
At first, we conjure only ghostly figures, a trio
of vertices, the relationship of their shadowy legs traced
back to the ruins of what tribute we paid him in school.

Learning together, we exhume his elegant formula
and will its uses to life. How tender this geometry
of homework, the lines drawn between us with words
both kind and stern, here in the fading light
of the world's turning, these hours soon gone.
From The Grace of Light (Finishing Line Press, 2004)
First published in Poet Lore (Spring/Summer, 2003)
Used here with the author's permission.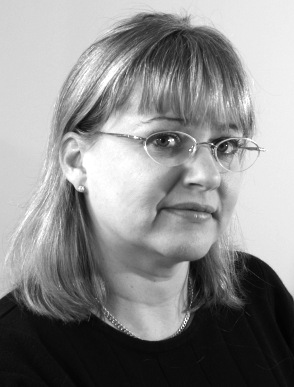 Kathe L. Palka is the author of two chapbooks of free verse and is an active member of the U.S.1 Poets' Cooperative. Kathe also writes in the Japanese forms of haiku and tanka. Her poems have appeared in many online and print publications. She lives near Flemington, New Jersey, with her husband of 27 years, their two sons, and her beloved German Shepherd, Jetta. An avid gardener, she enjoys wandering the parklands of her native state whenever time permits. Learn more about her at www.kathepalka.com or at her Haiku Foundation webpage.
nancy_scott:
What a tender, beautiful poem!
Posted 10/21/2010 05:33 AM