There is always that last day,
the one you never want to see
and yet what is more perfect?
This is the day before the day
when November settles in.
This is the day out in the woods
when last silver moths
are winging from branch to leaf,
a day of the last chorus
of swans in the bay.
Today last leaves are letting go,

to the beckoning earth.
Today is the day
I watch a sleek mink
trotting into the forest
fur gleaming dark wet
a fish in its mouth
wriggling in the ecstasy
of November's little deaths.

© 2010 by Sharon Auberle
Used with the author's permission.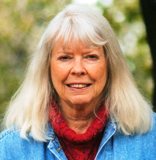 Sharon Auberle is the author of two books, Saturday Nights at the Crystal Ball: a Memoir in Poetry (currently out of print), and Crow Ink, a collection of her poetry and photographs. She is venturing into the world of recorded word, via a CD, Something After Burning, with music backup provided by some of Door County, Wisconsin's finest musicians. The poems are taken from her book by the same name, to be released in the fall. The CD is available, for $12 plus $3.50 S. & H., from the author at P.O. Box 701, Sister Bay, Wisconsin 54234. When not doing any of the above, Sharon tramps the woods near her home in pursuit of the chanterelle mushroom, which she says is having a bumper year. Learn more about Sharon here.
dajoslyn:
This is a lovely poem - I like it - but I don't really think of November as a series of "little deaths," only rests. Everything is still there, just not evident. Otherwise, how could there be such a bursting forth in spring?
Posted 11/06/2010 10:32 AM